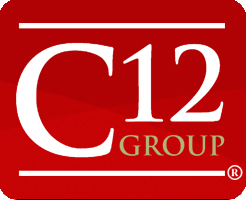 C12's business membership is now over 1200, stretching across 30 states and touching the lives of nearly 3% of the US adult population annually via the marketplace.
Greensboro, North Carolina (PRWEB) May 31, 2013
The C12 Group's national expansion and financial success among its member businesses the past year is attributed to the focus on life-long learning and interaction among business professionals through MBA level "best business practice" and ministry materials that incorporate Biblical principles. "We are excited about the expansion of C12's presence across the country. Our Area Chairs look forward to helping our members in 'Building GREAT Businesses for a GREATER Purpose'," says Don Barefoot, CEO and National President of The C12 Group.
Over the past year The C12 Group has added nine new territories:

Birmingham, AL
Northern VA/DC
Delaware
Southern NJ
Houston TX
Charleston, WV
York/Lancaster, PA
East Bay, CA
Fort Worth, TX
C12 plans to expand into another 16 major metro markets including Memphis, Oklahoma City, Seattle, New York City, Boston, Phoenix, Miami, Jacksonville, Columbus, Cleveland, Indianapolis, Los Angeles, San Diego, Milwaukee, and Little Rock.
C12's business membership is now over 1,200, stretching across 30 states and touching the lives of nearly three percent of the U.S. adult population annually via the marketplace.
Historically, C12 members outperform their peers in both weak and strong economic environments.
This data, analyzed over a 10-year period, provides us great encouragement and evidence that leading businesses according to timeless Biblical principles is quite compatible with achieving topnotch performance according to the world's pure business metrics. Great news for those called to lead as stewards, servant leaders and ambassadors for Christ in the workplace.
The spiritual fruit of C12 members is very significant. So far this year 66 percent of members reported:
6,600 known adult salvations. Making the typical C12 member company more evangelistically fruitful than the typical American church.
$22 Million Dollars given to support Christian ministry and others serving in the name of Christ.
25 percent of C12 member companies offer workplace chaplaincy to employees and other stakeholders.
In addition, C12 further enhanced its national presence by:
Adding a new strategic affiliate, FamilyLife Ministries. They provide marriage and family-strengthening resources to employees of C12 companies.
Expanding mixed media elements to enrich the C12 peer advisory board meeting experience.
Deepening our commitment to developing member company Key Players to bring improved alignment, teamwork, and long-term organizational strength.
The C12 Group is America's leading provider of executive roundtables for Christian CEOs and business owners.
It was founded in 1992 by Buck Jacobs. Mr. Jacobs is a dedicated Christian, author and CEO. His vision is to see an active global Christian CEO/Owner network, with C12 groups in very metro area around the globe.
Mission Statement: "To change the world by bringing forth the Kingdom of God in the marketplace through the companies and lives of those He calls to run businesses for Him."