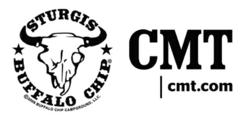 Sturgis, South Dakota (PRWEB) May 30, 2013
The Sturgis Buffalo Chip® and CMT® are bringing the annual motorcycle festival best known for its massive 9 day superstar concert lineup, week of jaw-dropping stunts, and off-the-wall competitions to television when CMT BIKE WEEK premieres the first of multiple specials later this summer. Filmed at the Sturgis Buffalo Chip's two weeklong event in Sturgis, S.D., CMT BIKE WEEK will give viewers an in-depth and behind-the-scenes look into the music, culture and camaraderie that make up this popular festival.
"We are thrilled that CMT BIKE WEEK intends to bring the Chip to the world of CMT and document our most exciting traditions," says Rod Woodruff, President of the Sturgis Buffalo Chip. "The Buffalo Chip has always offered a unique sanctuary to bikers in search of freedom, camaraderie, and entertainment. Built by bikers for bikers, we aim to provide the most thrilling experience to the many who consider us their second home and return to the wild festivities each year."
In each CMT BIKE WEEK special that features the Largest Music Festival in Motorcycling™, viewers will get to see the completely unique events and endless entertainment that the Sturgis Buffalo Chip has been providing bikers and music fans since 1981.
The Sturgis Buffalo Chip, affectionately known to fans that make the annual pilgrimage as the Best Party Anywhere™, takes place July 29 through August 11. The 9 days of world class concerts announced thus far include Queensrÿche, The Cult, ZZ Top, Halestorm, Kid Rock, Doobie Brothers, Toby Keith, Rob Zombie, Mastodon, Machine Head, Lynyrd Skynyrd, Brantley Gilbert, Sublime with Rome and more to be announced soon. Festival event information is available at http://www.BuffaloChip.Com and CMT BIKE WEEK programming information can be found at http://www.CMT.com.
Cary Glotzer, Joe Townley, Jordan Stone, Mark Farrell and Michael Yudin will executive produce for My Tupelo.
About Sturgis Buffalo Chip
The Sturgis rally's cornerstone event, known as the Largest Music Festival in Motorcycling™ and the Best Party Anywhere™, the Sturgis Buffalo Chip®, celebrates its 32nd consecutive annual concert series at this famed 580 acre, scenic, creek fed camping resort three miles east of Sturgis, SD. Since 1981, the Sturgis Buffalo Chip® has annually provided unforgettable live music experiences and exciting activities for fans from around the world with 9 days of concerts free with camping, including over 35 bands and nonstop entertainment. Passes grant access to music industry's hottest stars and emerging talent, 25 bars, the Bikini Beach swim area, tiki bars and lounging decks, a diverse selection of food and beverage vendors and interactive exhibits. The Sturgis Buffalo Chip offers clean, well maintained facilities, private showers, cabins, RV's, paved roads throughout and more. Entertaining events, including bikini contests, daredevil stunts and many spectacles unique to the Chip occur every day. The Buffalo Chip is a festival experience like no other. More details are available at http://www.BuffaloChip.com.
About CMT
Carried in 92 million homes, CMT is the #1 destination for country music fans with the latest in contemporary country music. CMT's programming mix reflects its audience's diverse passions, blending hit music franchises with family, adventure and comedy-oriented series that reach the heart of the country audience. CMT's lineup includes such original series as top-rated My Big Redneck Vacation and Redneck Island, and the network will premiere Dog and Beth: On the Hunt starring Dog and Beth Chapman this April. Additionally, CMT delivers stars like no other on critically-acclaimed shows, including CMT Crossroads and the CMT Music Awards.