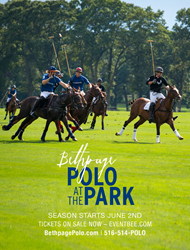 "Kids are free to attend, and low fees and parking costs make this an affordable opportunity to include everyone all summer long."
Bethpage, NY (PRWEB) May 31, 2013
The kickoff of "Polo at the Park" on June 2nd, 2013 will mark the official change from "Polo at the Park" to "Bethpage Polo at the Park." Each season, Bethpage Polo attracts thousands of revelers to Bethpage State Park's polo field, as local celebrities, polo enthusiasts, socialites and small businesses converge every Sunday through October.
Bethpage's Polo at the Park's field has hosted internationally renowned polo superstar Nacho Figueras and his Black Watch Team as well as other professional polo stars. Robert Ceparano, owner of Bethpage Polo at the Park and Country Farms, said, "Polo is a very different sport than it was a decade ago. It's not just for the Hamptons, anymore. We want everyone to enjoy the sport, and Bethpage Polo makes that possible. Kids are free to attend, and low fees and parking costs make this an affordable opportunity to include everyone all summer long."
The new look of Bethpage Polo can be viewed on advertisements throughout Long Island at LIRR stations and inside of the train cars. Bethpage Polo also partnered with the Metropolitan Transit Authority-Long Island Rail Road to create discount travel packages for those attending the event.
"Bethpage Polo has always been known as a family-friendly event, but we really wanted to introduce the sport to a more diverse audience. We worked with consultants during the spring to capture the passion of the sport," said Ceparano. "I wanted to communicate what an amazing experience it is. Bethpage Polo at the Park is successfully executing that vision. This season has generated more interest than ever, with inquiries regarding VIP arrangements and tent rentals at an all-time high. We expect to sell out most, if not all of our VIP tickets and tents well in advance of next season."
This season of Bethpage Polo has attracted some of the top businesses, including Ferrari-Maserati of Long Island, which sponsored a tent for the season and will provide vehicles to test-drive and Art Brunch, which is also based out of Long Island. Art Brunch combines art and brunch within various locations throughout the Northeast. The Art Brunch tent will host a variety of rare, fine art each week, including some by NYC-based artist Mitchell Schorr, who created some exclusive pieces to celebrate the event.
"The sponsorship of PULSE Magazine, and the purchase of tents by some of Long Island's most buzzworthy businesses will only encourage other businesses to inquire about the event," said Vanessa Ferrelli, Founder of myEPK Media, and one of the consultants that Ceparano approached. "As interest in Bethpage Polo at the Park grows and the media continue to reach out, this is sure to become the 'can't-miss' event of the season."
Tickets are currently on sale via online retailer Eventbee and Carlyle Catering is providing gourmet picnic baskets for purchase during the season. "Online ticketing gives Bethpage Polo fans the opportunity to ensure they have their seat for all of the action this season, and Carlyle Catering will provide attendees with delicious gourmet picnic baskets that they can reserve in advance. These partnerships are going to make everyone's Polo season memorable, and it's our hope that everyone shares their interest in Bethpage Polo via their social networks," said Ferrelli.
For more information about Bethpage Polo, visit: http://www.bethpagepolo.com. For more information on free polo clinics, private polo lessons or private instruction, visit: http://www.country-farms.com or call: 516-633-9500. For more information on gourmet picnic baskets, email: polo(at)carlylecatering(dot)com.