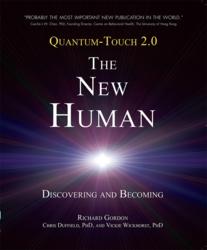 When "Quantum Touch 2.0" breaks out of the alternative community and people realize they have always had these abilities, it's going to change the paradigm
Santa Monica, CA (PRWEB) May 31, 2013
Richard Gordon, founder of Quantum-Touch, Inc., spent an hour talking about his new book," Quantum Touch 2.0: The New Human" on the popular syndicated radio talk show "Conscious Talk."
Hosts Brenda Michaels and Rob Spears led a fascinating discussion about how Quantum Touch came to be and its power to change the world.
"When "Quantum Touch 2.0" breaks out of the alternative community and people realize they have always had these abilities, it's going to change the paradigm. That's because our beliefs shape our attitudes, which determine our thoughts and feelings and the decisions we make," Gordon said during the interview.
"The way you change the world most profoundly is by changing a core belief. So if we can help people discover they have these new human abilities and make the transition, then that will change the kind of decisions and priorities we are capable of making," Gordon said.
When asked why the Quantum-Touch technique had not been adopted by the mainstream medical community, Gordon provided a straightforward, answer.
"It may be something as simple as ego issues. The people who are the professors and the ones in charge simply like to have their positions of power. Every new discovery is often met with tremendous resistance," he said. "When you introduce something that breaks the mold of what people think is possible, there may be those who first just ignore you or laugh at you."
However, Quantum-Touch shifts perspective, so that people see themselves as healers instead of just the people who have traditionally served in that role.
Gordon developed the Quantum-Touch technique after becoming frustrated with traditional medicine. At the age of 24, he was ill with skin, lung and intestinal problems. But doctors said his symptoms weren't advanced enough to warrant treatment. Gordon took matters into his own hands and began studying holistic medicine.
"I wanted to know what was true, push against the rituals and dogma and find out what actually worked," he said. "I've found some surprisingly easy solutions."
Readers can learn more about to heal themselves and reduce pain using Gordon's principals. His second book "Quantum-Touch 2.0: The New Human" offers simple and effective techniques to expand on what it means to be a human being.
Included are:

Simple, effective ways to raise bodies vibrations and accelerate healing.
The amazing power to reduce bodily pain.
Evidence of humans' abilities to heal that goes beyond current understanding.
An explanation of how consciousness can positively affect the physical states of others.
The book is available for purchase in paperback or Kindle version at Amazon.com. Gordon's first book, "Quantum-Touch: The Power to Heal," is also available on Amazon in paperback and Kindle editions.
ABOUT QUANTUM-TOUCH, INC.
Quantum-Touch, Inc. provides a method of natural healing that works with the "Life Force Energy" of the body to promote optimal wellness. Life Force Energy, also known as "chi" in Chinese and "prana" in Sanskrit, is the flow of energy that sustains all living beings. Quantum-touch teaches simple and effective ways of using energy medicine to reduce pain, realign structure, balance organs, glands and systems, heal injuries and so much more.
For more information, please visit http://www.quantumtouch.com.