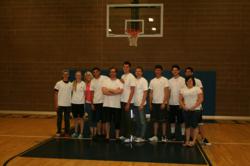 Audeo Academy believes that successful entrepreneurs are those who have a dream and stay committed. Successful entrepreneurs are formed through a combination of knowledge, experience, connections, and opportunities. Only those who dare try succeed.
Salt Lake City, UT (PRWEB) May 30, 2013
Audeo LLC, today announced its participation in the Eagle Mountain's Pony Express Days basketball tournament as part of their support of local fund-raising events. Audeo Academy for Entrepreneurs sponsored two teams in the event. Both teams did well with one of the teams taking 2nd overall placement in the competition. Audeo Academy team members were Ben Smith, Peter Johnson, Bo Congdon, Jeremy Hall, Alex Smith, and Britton Smith. Audeo Academy fans joined the cheering section.
"We had a great time at the tournament in Eagle Mountain," said Bo Congdon, Audeo Co-Founder and basketball team player. "Audeo Academy participates in events that build entrepreneurial attributes and give back to the community."
Audeo, means "I Dare" in Latin. Audeo Academy dares entrepreneur-minded individuals to exceed expectations and reach their highest potential as income-producing business owners. Audeo Academy provides entrepreneurial tools, projects and event experiences designed to lend an advantage to those interested in starting their own income-producing business now.
"It can take many expensive years to turn entrepreneurial dreams into success yet with millions of people looking for jobs, time is not a luxury most have," said Jeremy Hall, team player and Audeo Co-founder. "Audeo Academy offers a solution with a program that provides entrepreneurial tools, projects and event experiences designed to lend an advantage to those interested in starting their own income-producing business now and making connections while working on world-class projects and participating in cause-related events that will help them stay successful in the future."
For those who dare to dream big, Audeo Academy mentors honorary entrepreneurs past the difficult trial and error phase of finding success faced by new business owners, right into income-producing and passion-pursuing endeavors. Audeo Academy only selects individuals who have the desire to exceed limits in business endeavors, celebrity and cause-related events and hands-on projects that generate revenue. Audeo Academy's "Dare to Exceed Expectations" 4 Pillars build individuals into an income-producing entrepreneur in six months!
To start, Audeo Academy dares individuals to own an income-producing business. The "Dare to Own" pillar includes going through all of the steps to get your income-producing business set up and running. Each honorary entrepreneur will have a mentor who will help them through the Audeo process. Weekly mentor discussion group sessions include topics to support producing an income by having your own business.
Second, Audeo Academy for Entrepreneurs teaches the skills that help individuals to "Dare to lead and grow a business." Entrepreneurial training helps honorary entrepreneurs learn how to think like an entrepreneur, market, promote, grow, build and monetize. The "Dare to lead and grow your own business" step offers online and live courses from successful entrepreneurs every week day. This pillar offers the knowledge you need to become an entrepreneurial leader and successfully grow an income-producing business. Weekly Courses offerings include; "Entrepreneur Mindset" by Donna Root, "Choose Surthrival" by Kim Power Stilson; "Finance! Invest! Save!" by Jim Simpson & guest speakers from around the world. Projects mentors range from Tom Egan of international magazine Vallarta Today & Danny Kramer of Retro Media All Stars.
Third, the "Dare to execute what you learn by implementing" skills in real-life projects to gain experience. Participating in world-class business projects gives honorary entrepreneurs the opportunity to learn from experience during their six months with Audeo Academy. Audeo Academy for entrepreneurs provides local, national and international business opportunities to implement what they have learned. Real-world business experiences jump start honorary entrepreneurs from learning to doing in a matter of weeks.
Finally, the "Dare to improve and give back to your community and the world" pillar has honorary entrepreneurs creating events that draw crowds and invite people to improve their local and national communities by giving back. From celebrity fund-raisers at the Academy Awards to concerts and organized fitness events, honorary entrepreneurs will team with mentors and others to create, produce, market, promote and execute world class events.
For more information contact: Audeo Academy for Entrepreneurs at http://www.audeoacademy.com