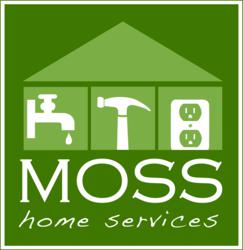 We value the relationships we build with our customers and appreciate them trusting Moss with all of their home improvements
Chantilly, VA (PRWEB) May 31, 2013
Moss realizes today more than ever, that homeowners are staying in their homes longer or purchasing homes that have been either in foreclosure or on the market for an extended period of time. These homes have one thing in common; they are in need of a variety of home services, from plumbing and electrical to roofing and siding.
To help their customers' who need these services, Moss has created the Friend of Moss (FOM) program. The program gives existing clients a 20% discount off their already competitive home services rates.
Customers can be a previous client of Moss Home Services or Moss Building & Design to receive this special rate when they have handyman needs or other home repairs that they need taken care of.
"We consider all of our Moss clients part of one family," stated Nathan Shaffer, General Manager at Moss Home Services. "We want to make sure no matter what type of project they've completed with us, additions, kitchen remodeling, bathroom remodeling, basement remodels or handyman services, they have access to our FOM rate." Nathan added, "And of course, with the FOM rate, customers will receive the same dependability, quality of work and customer service they are used to receiving when working with Moss."
Jason Hampel, co-owner of Moss agrees with Nathan and adds, "Moss has received the Angie's List Super Service Award for the last three years and has a BBB A+ rating. This along with our 80% repeat customer and referral rate, reinforces the Moss philosophy which is to treat our customers like family. We value the relationships we build with our customers and appreciate them trusting Moss with all of their home improvements."
Along with the FOM rates, Moss also offer an annual Maintenance Program to take care of routine maintenance items, assess the condition of your home and identify/address any problem areas. This helps customers proactively maintain their home and keep it functioning properly for years to come.
Homeowners who wish to learn more about Moss' FOM rate or remodeling services in Virginia -- including additions, kitchens, baths, basements -- or would like a free consultation, are encouraged to contact Moss or visit the company website at http://www.mossbuildinganddesign.com.
##
For home improvement in Northern Virginia, you can count on Moss Building & Design. Moss Building & Design and Moss Home Services are award-winning, family-owned residential remodeling and home services companies located in Chantilly, Virginia. Since 2001, we have established a reputation for excellence in remodeling additions, kitchens, bathrooms and basements and performing home services throughout Northern Virginia. Our customers see us as a trusted partner and we are very proud of our exceptional 80% repeat customer and referral rates. Moss Building & Design has won consumer awards like Angie's List Super Service awards the last three years and has an A+ rating from the Better Business Bureau, as well as many other industry building and design awards.