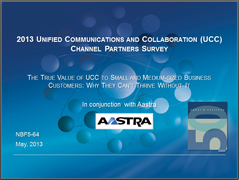 .. significant opportunities [exist] for vendors and partners to drive UCC forward among SMBs
Dallas, TX (PRWEB) May 31, 2013
Unified Communications and Collaboration (UCC) is on the rise among small and medium-sized businesses (SMBs), according to new research commissioned by Aastra, a leading company at the forefront of the enterprise communication market. The research reveals that the widest adoption of UCC among SMBs is by organizations with multiple offices or homeworkers, where UCC tools such as audio and videoconferencing, IM (Instant Messaging) and unified messaging can deliver tangible benefits by connecting remote teams and enhancing productivity.
The research was conducted by Frost and Sullivan across 315 global channel partners to gain an insight about the perceived benefits and adoption of UCC tools among SMBs. Entitled "The True Value of UCC to Small and Medium-sized Business Customers: Why They Can't Thrive Without It," the research examines the importance of UCC tools to SMB customers, the key barriers to adoption and the support needed by channel partners to accelerate widespread use of UCC.
Key findings include:

Almost three-quarters of partners believe that the main benefits SMBs seek from UCC tools are cost reduction and enhanced productivity.
Partner perceptions vary, however, based on partner degree of involvement and type of engagement with end-user organizations. IT consultants are most optimistic with 61 percent of respondents in this group stating that SMBs have a large focus on a UCC strategy.
According to 81% of partners, ease of use is the top UCC purchasing criterion for SMBs.
The most widely deployed UCC tools among SMBs are audio conferencing (83%) and VoIP/IP PBX (81%), followed by Unified Messaging (69%) and fixed-mobile convergence (FMC) (66%).
The study also looked into the relationships between vendors and partners in driving accelerated UCC adoption. It highlighted a greater need for partners to educate customers about the business benefits of various UCC tools and to train customers on how to use these tools more effectively. It also revealed that partners would benefit from more extensive training from their vendors.
The barriers to adoption among SMBs, according to the research, include small budgets, limited internal IT resources and a concentrated workforce. More than half of the surveyed partners cited integration costs (54%) and license costs (51%) as the main barriers to SMB adoption of advanced UCC.
Elka Popova, Program Director, Unified Communications & Collaboration, at Frost & Sullivan, comments, "While this study confirms previous Frost & Sullivan findings that SMBs have a more conservative approach than larger businesses when it comes to UCC investments, it also confirms significant opportunities for vendors and partners to drive UCC forward among SMBs. As macro-economic conditions improve, SMBs are likely to switch their focus from more tactical objectives, such as immediate cost savings, to more strategic objectives such as gaining a competitive advantage through enhanced productivity and accelerated decision-making. A solution-centric partner sales approach focusing on ease of use, aided by greater vendor discounts and continued partner training, will boost demand for UCC tools in the SMB market."
The Frost & Sullivan research also measures the adoption of various types of communications endpoints among SMBs and reveals key differences in UCC perceptions by type of partner (IT Consultant, VAR etc.). To download a copy of the results, please visit: http://www.aastra.com/frost-ucc-survey.htm.
Notes to Editors
Research methodology: The findings are a result of a web-based survey. The data was collected between November 2012 and February 2013. Frost & Sullivan defines SMBs as entities and organizations with five to five-hundred employees.
About Aastra USA
Aastra USA Inc. is the US business unit of Aastra Technologies Limited, a company at the forefront of the enterprise communication market. Headquartered in Concord, Ontario, Canada, Aastra develops and delivers innovative communications products and applications for businesses. Aastra's operations are truly global with more than 50 million installed lines around the world and a direct and indirect presence in more than 100 countries. Aastra is entirely dedicated to enterprise communications and offers IP telephony and Unified Communications solutions individually tailored to satisfy its customers' requirements. These range from feature-rich call managers for small and medium businesses and highly scalable ones for large enterprises, associated UC applications, integrated mobility, multimedia call center solutions and high definition video communications to a wide selection of desk phones and cordless terminals. With a strong focus on open standards, Aastra enables enterprises to communicate and collaborate more efficiently. For additional information on Aastra, visit our website at http://www.aastrausa.com.