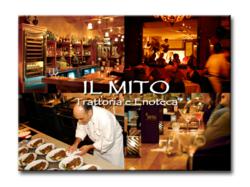 Truly fabulous - and in addition our meal was gluten free (you sure wouldn't have known it!). A++ and we'll be back
Milwaukee, Wi (PRWEB) May 31, 2013
IL MITO Trattoria e Enoteca of Wauwatosa, Wisconsin was just listed as one of Wisconsin's Top 10 Diners' Choice "Neighborhood Gem" restaurants by Open Table (http://www.opentable.com).
The Top 10 designation befits the ongoing popularity of Chef Michael Feker's IL MITO brand, which was introduced to the Milwaukee market in 2000. Feker opened IL MITO Trattoria e Enoteca at 6913 W. North Avenue in 2006. Known for its Italian/Mediterranean healthy, fresh food, IL MITO Trattoria e Enoteca has often been a favorite OpenTable Diners' Choice, including named top 50 Best Italian Cuisine in the U.S. in 2010, with yearly recognition and awards for outstanding food and service including "Fit for Foodies," "Best Italian Food," "Good for Groups," "Great for Lunch," "Great for Brunch," "Hot Spot," "Kid-friendly," and more.
Open Table is the leading provider of real-time online restaurant reservations for diners and has seated more than 450 million diners around the world at more than 28,000 restaurants. Those reservations are used to create the Open Table Diner Choice Lists, offering up-to-date rankings of restaurants.
Chef Feker established IL MITO as a destination for simple yet robust Italian food that's affordable. The seasonal menu features everything from homemade pastas and salads to signature soups, breads, cheeses and pizza, including homemade, gluten-free pizza, pasta, bread, entrees, desserts and more.
"It's our customers who are gems," said Feker. "We think of all of our guests as family. And we welcome all who want to join us for fresh, healthy food."
"What a great experience we had here for my birthday. We chose to dine outside, so we felt like we had our own little world. We received attention from many different servers - the service was stupendous. We enjoyed each part of the dinner - the gluten free bread and garlic dip, our eggplant appetizer, and our entrees - the lamb and a pasta dish. Truly fabulous - and in addition our meal was gluten free (you sure wouldn't have known it!). A++ and we'll be back," anonymous IL MITO guest and Open Table user.
Next door to IL MITO is Chef Michael Fekers' School of Culinary Magic/Culinary Studio, where Chef Feker is also a culinary instructor and hosts corporate team-building events, cooking demonstrations, wine and beer tastings, hands-on cooking lessons, learning luncheons and more.
Chef Feker's newest culinary endeavor, IL MITO East -- an infusion of rustic Italian tapas with Feker's unique twist on fine dining -- opened earlier this year and is located in the historic Knickerbocker on the Lake, at 1028 E. Juneau in Milwaukee.
In addition to his restaurants and culinary studio, Chef Feker appears live on Milwaukee's FOX6 multiple times each week.
Feker also hosts Feker's Kitchen, a 30-minute live cooking show, where his mission is to get his viewers and guests back to the table to share nourishment and conversation.