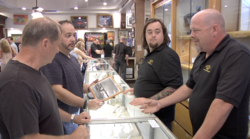 He's a walking encyclopedia.
Las Vegas, Nevada (PRWEB) May 31, 2013
Nationally-known autograph expert Steve Grad, Principal Autograph Authenticator of Santa Ana, California-based PSA/DNA Authentication Services (http://www.PSADNA.com), has joined the team of experts who assist in the evaluation of customers' items on the popular History® channel's Pawn Stars™ program (http://www.history.com/shows/pawn-stars). He brings both extensive knowledge and state-of-the-art technology to the show.
"In addition to PSA's digital archives of authentic autograph exemplars to compare with customer's items, I use a ProScope Micro Mobile, a high-resolution handheld microscope that is connected to an iPad® for enlarging the details of the signatures. Everyone instantly can see the enlarged, tell-tale details of an autograph, and I explain why I think its either authentic or not," said Grad.
Grad's first in a series of upcoming appearances on Pawn Stars will be on Thursday, June 6, 2013, at 9:00 p.m. Eastern. Consult your local listings for time and cable channel number.
The popular program takes viewers into the colorful world of the pawn business at the Gold & Silver Pawn Shop (http://www.gspawn.com) in Las Vegas. The show follows the fascinating work of three generations of the Harrison family -- grandfather Richard, son Rick and grandson Corey -- along with employee Austin "Chumlee" Russell.
In some of the upcoming episodes Grad is called in to examine and determine the authenticity and value of various entertainment, historical and sports autographs.
"It was exciting the first time I walked into their shop. It looks just like it does on TV, and the Harrisons are great to work with. Rick's knowledge is extensive about everything. He's a walking encyclopedia," said Grad.
A former radio broadcaster, Grad was fascinated to get a behind-the-scenes look at how the television program is produced. "It all comes together so well because of the professional production people, the Harrisons and their staff at the shop. I recently viewed a video of one of the nearly-finished segments and it was really cool to see how everything fit together," he explained.
"One of the missions of Professional Sports Authenticator and PSA/DNA Authentication Services is education. Steve Grad serves not only as an authentication expert, but also a great ambassador for the hobby of collecting," said Joe Orlando, President of PSA and PSA/DNA, divisions of Collectors Universe, Inc. (NASDAQ: CLCT).
Since its founding in 1991, PSA experts have examined and certified over 20 million different sports, entertainment and historical collectibles with a combined total value of over $1 billion.
For additional information about Professional Sports Authenticator and PSA/DNA Authentication Services, call (800) 325-1121. Email: info(at)PSAcard(dot)com. Online: http://www.PSAcard.com.