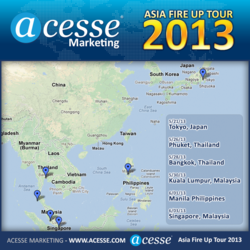 Minneapolis, MN (PRWEB) May 31, 2013
The Acesse Asia Fire Up Tour 2013 brought its affordable, user-friendly Internet Services, and unique Business Opportunity to Malaysia. The team experienced a successful reception from new members. Malaysia is one of the newest markets that Acesse has opened up in Asia and small businesses and individuals are very enthusiastic about the opportunity at hand.
A great crowd joined together in Kuala Lampur, Malaysia to hear speeches provided by Bob Kinsella, President of Acesse, Annie Zhang, Top Sales Leader, and James Wong, CTO. Founder Steve Renner, CFO Amy Ayd, and Corporate Council Peter Wold gave special video messages to the audience.
The conference was free and open to the public for small businesses and individuals to learn about Acesse's affordable, user-friendly Internet Products and Services. Acesse provides the average person with an opportunity to earn an above average income through marketing and advertising in the Internet Industry; no other Internet Services company offers the same type of opportunity.
Acesse will continue to showcase its Products and Opportunity to the Philippines and Singapore market for its remaining Asia Fire Up Tour 2013 destinations. The Acesse Team is immensely motivated, from the success that has come from the first four conferences, to keep moving forward with educating and inspiring new members across Asia.
Acesse Marketing is the Sales and Marketing division of the Acesse Corporation, registered under the laws of the state of Nevada, USA.