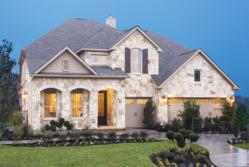 We are committed to designing homes that we would be proud of and our homeowners would LOVE." Fred Wyborski, Division President
Austin, TX (PRWEB) May 30, 2013
On Saturday, May 11, the Home Builders Association (HBA) of Greater Austin awarded LENNAR with the MAX Awards for Best Product Design- Specialty Product for their revolutionary home design NEXT GEN, THE HOME WITHIN A HOME as well as Best Website and Marketing Professional of the Year at their annual Marketing and Advertising Excellence (MAX) Awards and Gala at the Renaissance Austin Hotel.
Each NEXT GEN® suite includes a separate entrance, living room, kitchenette, laundry and private bedroom and bathroom. Lennar designed this unique floor plan to be incorporated into the main home floor plan in a way that allows this separate space to be seamlessly connected to the main home with a dual access door, similar to adjoining hotel rooms, to allow for as much interaction between the home and the private suite as you desire.
"Imaging having your parents nearby to help care for your children, or saving money on adult care for them because they live with you," said Fred Wyborski, Austin's Division President of Lennar. "Or being able to provide enough space for your child who needs to move in after college – now you can have all that and still have the size home you need for your family – it's a home within a home. We create new floor plans and designs that embody how people want to live and raise their families. We are committed to designing homes that we would be proud of and our homeowners would LOVE."
"Lennar.com resonates with consumers by allowing them to customize many fields for their own personal tastes for not only a home but a community as well. Friendly icons, beautiful photography, large floor plan images and social media widgets are all part of the consumer's experience for the techie demographic of this market." said Kandis Wilberforce, Marketing Coordinator, for Lennar and winner of the 2013 Marketing Professional of the Year.
The MAX Awards is presented by the HBA of Greater Austin, which is made up of more than 800 home building industry firms. Since 1953, the Home Builders Association (HBA) of Greater Austin has served as the leading not-for-profit trade organization dedicated to residential construction and remodeling in Central Texas. The HBA works with government, public, business and community organizations in six counties – Bastrop, Caldwell, Hays, Lee, Travis and Williamson – to protect every family's right to home ownership. For more information, visit http://www.AustinHomeBuilders.com.
About LENNAR
For more information about Lennar's NEXT GEN – The Home within a Home in Austin call 512-531-1331, or visit http://www.lennar.com.
With hundreds of communities nationwide and homes designed for first-time, move-up and luxury homebuyers, Lennar has grown to become one of the nation's leading and most respected homebuilders and proudly remains steadfast in their commitment toward quality, value and integrity. Lennar has a longstanding history of building exceptional homes in only the most well planned and desirable locations throughout the country.
###