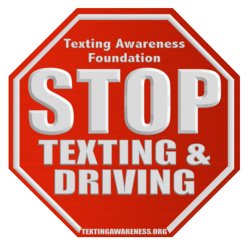 Bohemia, NY (PRWEB) May 31, 2013
On May 31, 2013, the Texting Awareness Foundation, a non-profit organization devoted to spreading awareness about the dangers of texting while driving, announces their participation in the Great Kite Flight event on Long Island in partnership with 102.3 WBAB and 106.1 WBLI.
On Saturday, June 8, Long Islanders will join together at New York's world famous Jones Beach in an attempt to break the world record for simultaneous kite flying. The current record for the most kites flown simultaneously is 12,350 and was achieved two years ago by children of the Gaza Strip at an event organized by the United Nations Relief and Works Agency at Al-Waha Beach.
The event will take place at Jones Beach Field 4 on Saturday, June 8, 2013. Registration begins at 9:00 am, and the kite-flying will begin at 11:00 am. The public may bring their own kites, or pick up an official, high-quality "STOP TEXTING" kite with a $10 donation to the Texting Awareness Foundation. Kites can be picked up at any of the 33 Friendly's Restaurant locations on the island.
Long Islanders can get more information at WBAB.com and WBLI.com.
Proceeds from the event will benefit the Texting Awareness Foundation. Rocco Panetta, spokesperson for Texting Awareness, says this is a great event for families and will benefit a worthy cause. "We're helping save lives by spreading awareness about what is now the number one killer of teens on the road. The Great Kite Flight will be a spectacle for all ages. The fantastic visual of thousands of kites being flown together is something everyone can appreciate. Come be a part of it!"
The Texting Awareness Foundation is a federally recognized 501(c)(3) not-for-profit organization that was created to remind and educate people about the dangers of texting and driving. Our goal is to keep the public informed, on a daily basis, of the possible legal and physical (body and property) dangers of texting and driving. Our "Remind You" campaign is designed to reduce accidents simply by raising awareness.