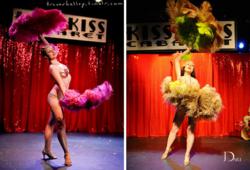 It's a festival quality showcase featuring kick-lines, burlesque, singers, comedy and more.
Indianapolis, In (PRWEB) May 31, 2013
Celebrated performer Donna Touch will bring her Chicago burlesque showcase, "Original Tease," to the White Rabbit Cabaret in Indianapolis, June 22. Doors open at 8 p.m., and the show starts at 10 p.m; tickets are available before the day of the show at http://www.brownpapertickets.com/event/377704 for $15, and if still available, tickets will be $18 at the door. Those who purchase by June 12 will receive a free entry into a Panty Prize Raffle. The audience will enjoy two hours of entertainment, featuring kick-lines, burlesque, singers, comedy and more.
Touch was recently second runner-up in the Southern Fried Burlesque Festival Queen Competition in Atlanta, has competed in the Viva Las Vegas burlesque competition, and has appeared in festivals across North America, including: the Carolina Burlesque Festival, Windy City Burlesque Fest, 1st Reno Rockabilly Riot, Montreal Burlesque Festival, New Orleans Burlesque Festival and New York Burlesque Festival. She has also organized the burlesque portion of the Indy Road Rocket Rumble for the past 5 years, as she will for this year's event, June 20-22.
"It's always an absolute treat to get to perform in Indianapolis and I'm very excited to bring our Chicago show Original Tease to the White Rabbit Cabaret this year," said Touch. "It's a festival quality showcase and combining the talent of our cast with that of the local gals is sure to bring the house down!"
The Chicago cast includes: Adam Burke, Deja Sue, Donna Touch, Eva LaFeva, Ramona Mourir, Ray Ray Sunshine, Siren Jinx and Vivi Valens. Joining from Bloomington: Tessa von Twinkle. Joining from Indianapolis: Brigitte Petite, Frenchy LaRouge and Patsy Blue Ribbon.
For full lineup information or tickets to the show visit http://www.brownpapertickets.com/event/377704 or call Brown Paper Tickets' 24-hour call center at 1-800-838-3006. Press interviews prior to the show welcome. Limited press passes will be available for the show.
###
Editor's Note: Donna Touch is available to do in-studio interviews, and offers a "How to Make A Feather Dancing Fan" crafting segment. Dance can also be added to the segment at your request. See her Etsy store, where she sells the elements needed to create your own Feather Dance Fan at :http://www.etsy.com/listing/130698211/feather-fan-staves-for-buidling-fans?ref=shop_home_active. The Chicago cast is also available for radio or television appearances June 20-22 offering one of our adorable non-strip group routines. (The Tease: https://vimeo.com/65594892 or CanCan: https://vimeo.com/62556550) Please direct any questions to Donna Touch at donnatouch(at)gmail(dot)com.
About Brown Paper Tickets: Brown Paper Tickets (http://www.BrownPaperTickets.com), the Not-Just-For-Profit ticketing company, revolutionized the industry by putting free, professional tools for ticketing any-sized gathering on the Internet, and continues to champion the rights of ticket-buyers with the lowest fee for the most service in the industry. The company donates 5 percent of the profit from each ticket sale to build communities and nonprofits, pays its employees to work 40 hours each year for the cause of their choosing, and employs a team of "Doers," experts in industries such as music, new media, makers, roller derby and more, to fix, improve and revolutionize the communities where we live, work and play.