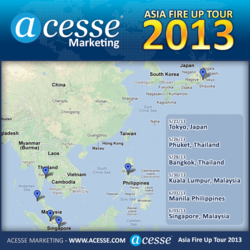 Minneapolis, MN (PRWEB) May 31, 2013
After completing conferences in Japan, Thailand, and Malaysia the Acesse Team will head to Manila, Phillipines for its fifth business conference on the Asia Fire Up Tour 2013. It will be held at the beautiful Holiday Inn Hotel on June 1, 2013 at 1:00 p.m. The conference will be free and open to the public.
Keynote speakers will include Bob Kinsella, President of Acesse, and Annie Zhang, Top Sales Leader, while Acesse's Founder Steve Renner, CFO Amy Ayd, CTO James Wong, and Corporate Council Peter Wold will provide special video messages for the audience.
Acesse's incredibly user-friendly and affordable Internet Marketing Products and Services will be amongst the most important topics at the conference. The keynote speakers will also introduce the Acesse Business Opportunity during the conference, which will be followed by celebratory dinner.
The Acesse Team is very excited to meet its newest team of members in Philippines. Acesse's state-of-the-art Internet Marketing Products and Services have been well received in the previous conferences; many new members have joined Acesse as Internet Marketing Consultants. The Acesse Team is enthusiastic about the reception in Philippines.
The Acesse Asia Fire Up Tour 2013 will visit Singapore for its final business conference on June 3, 2013 at the Grand Park City Hall. Acesse has been touring Asia for the purpose of bringing great Internet Products and Services to small businesses and individuals to help their businesses grow.
Acesse Marketing is the Sales and Marketing division of the Acesse Corporation, registered under the laws of the state of Nevada, USA.