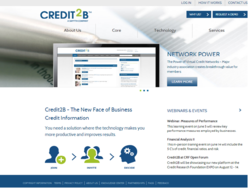 New York, NY (PRWEB) May 31, 2013
Smyyth LLC, a leader in credit information and accounts receivable management technology and services announces a merging of its credit information operations, including the venerable credit ratings firm Bernard Sands LLC and credit networking company Smyyth Credit Services Inc., under a new umbrella brand – Credit2B. Customers will be transitioned to the Credit2B label and services over a period of months, with no disruption to services. For more information, go to: Credit2B.com
John Metzger, Chairman of the Smyyth Companies and long-time industry veteran, stated that "The credit information industry isn't much different than it was fifty years ago, except the same information is now published over the Internet. Existing credit bureaus all provide relatively similar information, mostly static, and often stale. The real expertise on a customer is with the credit practitioner, not with credit bureaus, and what we have done is to empower that professional by assembling and analyzing the intelligence of the industry-community along with credit bureau data."
Continuing, Metzger said, "In mid-2012, we broke with tradition and went outside to recruit Shyarsh Desai as Chief Executive Officer of the credit information businesses (now CREDIT2B). Desai, formerly an executive with Dun & Bradstreet and IBM, brings a broad perspective and an intense customer-centered orientation to the company, and will lead our efforts in what will be an industry-shifting business opportunity".
"Credit2B is the world's leading trade credit community providing real time peer-user experiences on common customers, combined with credit bureau data and predictive scoring technology," stated Shyarsh Desai. "The Credit2Bsolution is based on robust real-time credit data interchange between members, combined with concentric "trusted networks" of industry professionals, all built around common customer interests. Building on the company's almost 90 years in the credit information business, Credit2B's new patent-pending technology will revolutionize business credit information products, and is the culmination of years of development. We are empowering the credit executive with a cost-effective, highly relevant and more timely decision tool derived from networks of professionals he or she trusts and on customers they share."
Credit2B provides world-class on-demand business credit intelligence, including reports, predictive scoring, and a peer-to-peer exchange of trade experiences on common customers. Built as a cloud-based application, Credit2B today delivers remarkably, high quality and timely information which is validated by a network of trusted connections. Credit2B is simple to join, create connections on shared customers, and access huge amounts of information from peers and third party credit bureaus through a high-fidelity experience.
Please visit http://www.credit2b.com for more information about Credit2B products and services.
About Smyyth
Smyyth provides world class Credit-to-Cash and accounts receivable services that the world's largest companies use to manage risk and optimize cash flow and profits using best practices for credit, accounts receivable, collections and deduction management. The Smyyth technology platform streamlines operations, slashes costs, and increases profits. Smyyth technology and services are built on Six Sigma principles and are SAS 70 Certified.
Please visit http://www.smyyth.com for more information about Smyyth products and services.