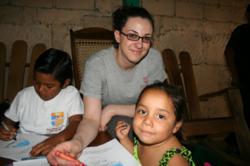 "Fairfield University's School of Nursing is thrilled to join MIT and Northwestern in receiving this national recognition," said Dr. Lynn Babington.
FAIRFIELD, Conn. (PRWEB) May 31, 2013
Fairfield University will be honored with a 2013 "Senator Paul Simon Spotlight Award" for creating an international program that is benefitting a community in Nicaragua and educating both Nicaraguan and Fairfield students.
"Our work in Nicaragua epitomizes one of the best aspects of a Fairfield education," said Lydia Greiner, MSN, APRN, a faculty member in Fairfield University's School of Nursing, who submitted the application which described the on-going collaboration among Fairfield's nursing students, Nicaraguan students of social work, and community members to address health concerns. The endeavor springs from Fairfield University and Universidad Centroamericana (UCA), in Managua, Nicaragua, signing a 2004 collaborative agreement, which has forged a strong institutional link between two Jesuit institutions from very different realities.
The Massachusetts Institute of Technology and Northwestern University will also be honored with the Spotlight Award, which will be presented by NAFSA: the Association of International Educators at an event in Washington, D.C. later this year. Named for the late Senator Paul Simon of Illinois, the Simon Awards recognize outstanding and innovative achievements in integrating international education on U.S. college campuses.
Lynn Babington, Ph.D., dean of the School of Nursing, said international experiences broaden students thinking and prepares them to be global citizens. "The School of Nursing is thrilled to join MIT and Northwestern in receiving this national recognition," Dr. Babington said.
The public health nursing work in Nicaragua has addressed a variety of health issues, including HIV/AIDs awareness, cardiovascular health, and hygiene. Each project is carried out by Fairfield's School of Nursing students, led by Assistant Professor Greiner, working with UCA social work students as well as community leaders, assisted by UCA students in the Teaching English as a Second Language program. Fairfield's nursing students participate as part of their clinical experience for Public Health Nursing, a service-learning course.
Dr. Mayra Luz Perez Diaz, president of UCA, finds the initiative to be a highly innovative form of collaboration allowing for faculty and students from both partners to have an internationalization and intercultural experience.
The Fairfield-UCA partnership also involves the exchange of undergraduate students between the two schools; the creation of a scholarship by Fairfield that enables one UCA student per semester to study at Fairfield; and the establishment of a study abroad program open to undergrads from any institution in the U.S.
"We are proud to present the 2013 Simon Awards to these colleges and universities for their comprehensive commitment and remarkable achievements in bringing global education opportunities to their students," said NAFSA Executive Director and Chief Executive Officer Marlene M. Johnson in a statement. "They are excellent models for how higher education across the country can and must innovate to prepare our students for the global economy we live in today."
Fairfield University is a Jesuit University, rooted in one of the world's oldest intellectual and spiritual traditions. More than 5,000 undergraduate and graduate students from 36 states, 47 foreign countries, the District of Columbia and Puerto Rico are enrolled in the University's five schools. In the spirit of rigorous and sympathetic inquiry into all dimensions of human experience, Fairfield welcomes students from diverse backgrounds to share ideas and engage in open conversations. The University is located in the heart of a region where the future takes shape, on a stunning campus on the Connecticut coast, located just an hour from Manhattan.