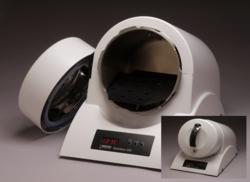 Our Saniclave 200 was designed with this in mind. Autoclave burns are painful and common... The outside remains cool to the touch. The user cannot get burned by touching the autoclave
Minneapolis, MN (PRWEB) May 31, 2013
Although steam autoclaves are the most effective and practical method of sterilization today, some users are still concerned about their safety. Dental and medical clinics, even nail salons, tattoo and body art facilities are using steam autoclaves more frequently. However, the United States Food and Drug Administration and ANSI/AAMI have recently increased their safety requirements. New autoclaves, like the Revolutionary Science Saniclave 200 and Getinge Quadro meet the stringent requirements of safety and effectiveness.
The most common injury caused by autoclaves are burns. Autoclaves that were designed 30, 20 or even 10 years ago are still on the market today, rarely updating or improving upon their designs. Many of these older designs are hot to the touch and will cause first, second or even third degree burns if the exterior of the autoclave comes in contact with human skin. South Carolina University states in their policy that autoclaves can cause sever burns to the body or face and that "you should seek medical treatment as soon as possible."
Thermally protective enclosures are becoming an industry standard. The ANSI/AAMI ST55 (a committee that partners with the FDA in these issues) requires that sterilizer manufacturers "ensure that surfaces touched by the operator during normal sterilizer operation cannot exceed a safe temperature." Eric Kaari of Revolutionary Science states "our Saniclave 200 was designed with this in mind. Autoclave burns are painful and common. For this reason our autoclave is enclosed in thermally protective polymer. The outside remains cool to the touch. The user cannot get burned by touching the autoclave."
Another concern is that of over pressure. Like pressure cookers, autoclaves are pressurized. The material sterilized is heated to approximately 121 degrees Celsius and remains under pressure during the sterilization mode. Autoclaves that were recently approved by the FDA have to follow more stringent safety guidelines regarding over pressure. Revolutionary Science's Isaac Erickson states, "We spent a lot of time ensuring errant cycles were identified and displayed so the user can acknowledge the error. The Saniclave 200 employs multiple safety mechanisms, both electronic and mechanical."
The Saniclave 200 is a compact, 10 liter autoclave, fashioned with a digital display. The sterilization cycle is 121C for 30 minutes - the hospital standard - is long enough to kill the AIDS virus and "MSRA, the flesh eating disease." A dry mode allows for drying both wrapped or unwrapped instruments. It is available with or without a printer and in 120 or 240 volts. Now the American made Saniclave 200 is available for approximately $1,000 USD.
About Revolutionary Science
In 1999, Revolutionary Science was founded after the birth of the company's first microcentrifuge. Years later, Revolutionary Science designs and manufactures incubators, centrifuges, autoclaves, automated cell and colony counters and water baths.
Registered with the FDA and ISO, Revolutionary Science is a Minnesota company dedicated to the manufacturing of precision life science and sterilization equipment.