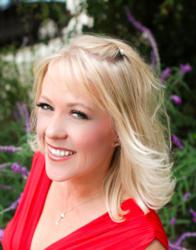 "I want to make sure that victims and survivors know they are not alone. Narcissistic Personality Disorder is wreaking havoc on our society and the disorder seems to be spreading like wildfire." -Tina Swithin
San Luis Obispo, California (PRWEB) May 31, 2013
In its first six months, Tina Swithin's new book, "Divorcing a Narcissist" has remained in the media spotlight with a recent interview on the Huff Post Live. On April 4th, Tina Swithin appeared on a live segment titled, "How to Spot a Narcissist" with author, clinical psychologist, and Instructor of Psychology for Harvard Medical School, Dr. Craig Malkin. That appearance subsequently led to an article in the Huffington Post titled, "5 Early Warning Signs that you are with a Narcissist," by Dr. Malkin in which Tina's new book was featured.
When asked about her mission, Tina answered that she has several goals for her new book, "I want to make sure that victims and survivors know they are not alone. Narcissistic Personality Disorder (NPD) is wreaking havoc on our society and the disorder seems to be spreading like wildfire. I hope to educate young people on the red flags to watch for in an effort to save them from toxic, abusive relationships. My ultimate goal is to spotlight this disorder for judges, attorneys and other members of the Family Court System because there seems to be limited education when it comes to the severe emotional damage and abuse inflicted on children by their NPD parents."
"Divorcing a Narcissist" has gained international attention with a recent interview in Glamour Magazine (Latin America) and a subsequent interview with the University of Sydney Australia. Since her book was published in December of 2012, Tina has appeared on shows such as "Dr. Carole's Couch" with world-renown psychiatrist, Dr. Carole Lieberman, Candace Smyth's Northstar Series and on "Courageous Conversations" with Sandy Weiner. Tina's book and blog have been featured in outlets such as the SF Chronicle, Examiner, About.com, Yahoo, Huffington Post and the Washington Times. Tina is a regular contributor for the Huffington Post Divorce and HopeAfterDivorce.org where she delves into the tricky world of divorcing a narcissist with both advice and inspiration.
Recent Reviews on Amazon:

Tina's story takes you on a painful yet accurate journey into the world of Narcissistic Personality Disorder. This lady has inspired me personally on so many levels and this book has been an invaluable resource for me! I had no idea that there were so many people fighting the same battle. She truly has been my "voice" when I didn't have the strength to find my own. This is a MUST read! Thank you Tina for being the brave and courageous light for so many of us who are struggling in the darkness.
Effecting change within the judicial system is a monumental task. However, the system can improve with educational growth found within this unique insight presented by Tina Swithin. She has demonstrated an unusual inner-strength by sharing her personal experiences. Instinctually protecting ones children is generally expected, but to document, interpret and share the results in such a manner is nothing less than extraordinary. It is much more important to possess character rather than to be a character. You, my friend, have continued to demonstrate the depth of your character in such a classy way. Congratulation and job well done!
About "Divorcing a Narcissist":
Just a year into her marriage with Seth, Tina found herself living a lavish lifestyle that became the driving force for her new husband. Obsessed with money, power and material items, Seth would stop at nothing to obtain his goals including robbing his own parents of their life savings. After almost ten years and two children, the marriage came crumbling to the ground and so did Tina's world. Tina went from an elite, gated community straight into a local women's shelter. Tina's journey began to resemble a nightmare as she navigated her way through the Family Court System while acting as her own attorney. Tina quickly learned about the terrifying journey that comes hand in hand with divorcing a narcissist.
In March of 2012, Tina sat watching the Today Show as Matt Lauer interviewed Christie Brinkley about her divorce from Peter Cook, a diagnosed malignant narcissist. In that moment, Tina felt pulled to share her story with the world. Tina recognized the need for education on this disorder and began writing her book just weeks later. An opportunity to meet with Christie Brinkley only solidified her decision to publish her book with the hope that no one else will feel alone during this dark, twisted battle.
About Tina:
Tina Swithin is a "warrior mom" who gained international attention in 2012 by documenting her journey through the family court system with her prolific and engaging blog, "One Mom's Battle." Tina resides in San Luis Obispo, California with her husband and two daughters. Tina is available for interviews or book signing events. If you are interested in doing a book review on, "Divorcing a Narcissist," please contact Tina directly at tina (at) onemomsbattle (dot) com. You can also connect with Tina on Facebook or Twitter @onemomsbattle