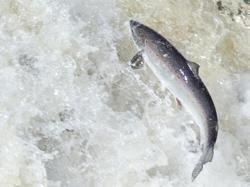 Returns to the Penobscot River in Maine went from 3092 salmon last year to a mere 614 this year, representing a decline of 80%. -ICES
St. Andrews, NB (PRWEB) May 31, 2013
The International Council for the Exploration of the Sea (ICES) has released its annual report on the status of wild Atlantic salmon populations globally (1). The findings will be presented at the 30th annual meeting of the North Atlantic Salmon Conservation Organization (NASCO) taking place next week, in Drogheda, Ireland. Of great concern to the Atlantic Salmon Federation (ASF) is a recent and significant decline in North America's salmon populations, which may be linked to increases in Greenland's salmon harvest.
ASF's VP Communications, Sue Scott, will represent 35 Non-Government Organizations (NGOs) from North America and Europe at the meetings, as co-chair of NASCO's NGO group. Since salmon migrate from their natal rivers in Canada and the US to feed in the rich waters off Greenland, Ms. Scott is concerned that Greenland's decision to increase its quota of Atlantic salmon to 35 tonnes will be detrimental to Atlantic salmon populations throughout North America.
"Greenland harvested 34 tonnes of Atlantic salmon in 2012 during their internal consumption fishery, the second highest amount since 2001. Since 79% of these fish are of North American origin, Greenland's fishery killed approximately 7,800 North American salmon," says Ms. Scott, citing ICES's report. According to the report, this figure does not include unreported catches in Greenland, which are estimated to account for an additional 10 tonnes.
In addition to increasing the quota of its internal consumption salmon fishery, Greenland also permitted the sale of its fish to factories for the first time since 2001. "This addition of factory sales is an incentive for Greenland to continue to increase its commercial fishery," says Ms. Scott.
While Greenland has increased the allowable number of Atlantic salmon harvested in its waters, the number of salmon taken by North America's recreational anglers and by Canada's aboriginal fisheries declined in 2012, according to Canada`s Department of Fisheries and Oceans (2). These declining catches reflect a declining population, in both salmon that spend one winter at sea (grilse) and the larger salmon that migrate to Greenland and spend two or more winters at sea. In North America, the total number of returning grilse (450,000) dropped by 28% compared to last year, and the total number of large salmon returns (140,000) dropped by 36%, according to the ICES report.
Salmon returns declined most profoundly in the southern aspects of their range; for example, returns to the Penobscot River in Maine went from 3092 salmon last year to a mere 614 this year, representing a decline of 80%, according to ICES.
In light of poor salmon returns in North America, ASF and other NGOS are calling on the Greenland government to follow the advice of ICES that there should be no harvest of North American salmon at Greenland. As an absolute minimum, NGOs urge NASCO to take steps to stop the sale of salmon to factories, reduce Greenland's harvest of salmon to reflect NASCOs agreed upon goal of 20-tonnes, and conduct better monitoring to control all fisheries, including unreported catch.
"All of the salmon that migrate to Greenland from the United States are from populations that have been listed as endangered, and many of the salmon from Canada are candidates for listing under the federal Species at Risk Act. In the face of these declines, the Greenland harvest has actually increased, signifying that the international community needs to strengthen its resolve to restore and protect this species", says Ms. Scott.
In addition to concerns about the Greenland fishery, NASCO will also consider the impacts of open net pen aquaculture on wild salmon stocks at this year's annual meeting.
(1). North Atlantic Salmon Stocks. 2013. Report of the ICES Advisory Commettee, CNL (12)8. http://www.nasco.int/index.html
(2). Department of Fisheries and Oceans Canada. 2013. http://www.dfo-mpo.gc.ca/index-eng.htm