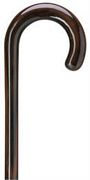 Lady Lake, FL (PRWEB) May 31, 2013
The uses of wooden canes vary, from health and medical purposes to fashion and theater. The natural sturdiness of wooden canes is preferable to many people who require the support and stability of a walking aid.
Other common uses for wooden canes can range from taking stress and pain from the legs and feet by giving support to lean on with each step. Improve balance or provide safety and security for those who are afraid of falling. Promote independence among those with weak or injured legs.
Walking-Canes.Net has wooden canes in stock. There are a few things one should keep in mind about how to hold and walk with a wooden cane. Carry it in the hand opposite of the injured or weak side. One can buy anatomically correct wooden canes for the right or left hand. Keep in mind that the injured side has a lot to do with the hand that is used for carrying the cane regardless of whether you are typically right or left handed.
Also, if it is at all possible, try to maintain the proper upright posture when using the aid of wooden canes.
Remember that wooden canes are intended to be helpful "third limbs." The height of the handle should allow the elbow to bend slightly while holding it. Do not use wooden canes that require the elbow to bend closer than a 90 degree angle. And on the other hand, wooden canes that are too short, and don't allow the elbow to bend at all, will not be helpful in that the cane is difficult to use.
Aside from the practical uses of wooden canes, remember that the wood cane can be as attractive and unique as one wants! Find wooden canes with beautiful carvings, have the owners initials carved, or wood burned. The wooden canes can be painted, or even left with the natural grain and even the original knots. It is all up to the new cane owner!