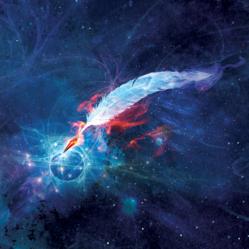 Hollywood, CA (PRWEB) May 30, 2013
The 2009 L. Ron Hubbard Illustrators of the Future Award winner Douglas Bosley has just won the National Society of Arts & Letters competition, making this his fourth win.
Douglas started his graduate program in 2009 when he won the L. Ron Hubbard competition and went on to win the Madison Print club Student Award in 2012. He then won the first place prize for Art Printmaking from the Central Illinois Chapter earlier this year and also won the National Award in the Art Printmaking category.
Since 2003 Douglas has had 76 Exhibits of his works from New York to Los Angeles, and many places in between, but he is currently exhibiting in Fukuoka Japan. His first international show was in Italy earlier this year and he also currently has a piece as part of the National society of Arts and Letters in the Andy Warhol Museum in Pittsburgh.
Not limited to just exhibitions, next on Douglas's agenda is exploring the intersections between art and science more aggressively, more specifically artistic collaboration with a lab dealing in crystallography.
The L. Ron Hubbard Illustrators of the Future contest, started in 1989 as a complement to the existing Writers of the Future contest. As they are free-to-enter the now famous L. Ron Hubbard's Writers and Illustrators of the Future enjoys amazing success with thousands of entrants yearly, from all parts of the world. Created by best-selling author L. Ron Hubbard, the contest has to date launched the careers of 11 New York Times bestselling authors and scores of illustrators careers.
To learn more, including details on how to enter the contests, visit the website at http://www.writersofthefuture.com