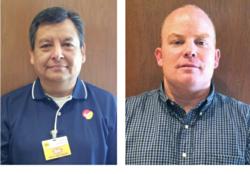 We build our leadership team with individuals who strive to fulfill our value of urgency, communication, integrity and the desire to win.
San Antonio, TX (PRWEB) May 31, 2013
Brake Check proudly announces the promotion of Allen Hakes to Vice President of Operations. Hakes started with the company as a manager in training in 2011 and worked up through the ranks to his most recent position as Director of Operations. He brings many years of management experience, especially in leadership and personnel development. Before moving to Texas and working for Brake Check, Hakes lived in Utah where he owned and operated his own multiservice dry-cleaning business.
"Allen has proven he has the willingness and aptitude to get the job done," said David Peveto, Brake Check president and CEO. "He understands how to operate a business, has learned the automotive service industry and is a born leader of people that will ensure our continued success. We are excited to continue to build our leadership team with individuals who strive to fulfill our values of urgency, communication, integrity, and the desire to win."
Brake Check also promotes Armando Flores to fill the role of Director of Operations for the San Antonio and Austin markets. Flores has been a part of the Brake Check family for 16 years and has built relationships with the team members which make him a quality leader to oversee the central Texas markets.
About Brake Check:
Brake Check is a family-owned and operated brake service and general automotive repair company headquartered in San Antonio with 40 retail locations in the central and south Texas regions since 1968. The company aims to provide high-quality customer service by offering valuable warranties and striving to maintain low prices for all vehicle repairs and maintenance, including brake services and oil changes. As Texas' first choice in brake service from the beginning, Brake Check is proud to continually increase its service offerings, truly providing its communities with a one-stop service option.
In addition to being well-respected in the business community, the Peveto family is committed to supporting the local community as well. Brake Check has established a legacy of supporting children-oriented non-profit groups, such as the Boys & Girls Clubs of San Antonio and For Love of Kids & Harleys. Between these two organizations, Brake Check has raised and helped to raise nearly $3 million for youth in need over the past 15 years. Brake Check also supports worthwhile organizations such as the University of Texas Health Science Center, San Antonio Livestock Exposition, St. Baldrick's Foundation and more.