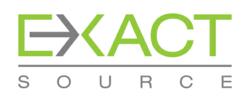 Atlanta, GA (PRWEB) May 31, 2013
ExactSource, a national provider of consulting, research and talent solutions to architectural and engineering firms, welcomes Leslee Bassett and Samantha Miller to their client services team. Both Bassett and Miller have extensive backgrounds in A/E/C recruitment and will both serve as Directors of Client Services.
Before joining ExactSource, Bassett served as the CEO of her own recruitment firm, B&B Services. She has over fifteen years of experience in recruiting mid and senior level engineers.
Miller also brings with her a comprehensive A/E/C recruitment background with over 10 years of recruiting and in-house HR experience for engineering and architectural firms.
As industry veterans, Bassett and Miller will not only be an excellent addition to the client services team, but they will also help ExactSource continue on their path to expanding their technical recruitment services and serving more A/E/C firms nationwide.
About ExactSource
ExactSource is an organizational consulting, market research and talent solutions company that specializes in providing recruiting services and software to firms in the architectural and engineering sector.
ExactSource is best known in the A/E/C industry for their highly acclaimed ExactProfile technology, a system released in 2012 that assesses and catalogues more than 115 critical engineering skill sets and experience levels that aren't typically identified on a resume. Using this breakthrough screening software, HR managers are able to instantly identify the technical candidates that meet their exact requirements. This methodology provides a smarter way to hire, and it is their goal to have every architectural and engineering firm across the country using ExactProfiles in their hiring process.
ExactSource has established a prominent presence in the Engineering community and successfully serves firms in 38 states across the nation, including over 20 firms on the Top 500 A/E list.
For more information about ExactSource and their consulting, research and recruiting services, visit their website at http://www.exactsource.com or contact David Schmidt at 678.580.4514 or dschmidt(at)exactsource(dot)com.