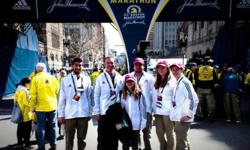 I think being around injuries, and being there in a position to care for the athletes made me feel responsible for their health, as well as for the well-being of the spectators.
Poughkeepsie, NY (PRWEB) May 31, 2013
What started out as a day of anticipation and excitement in Boston last month, turned into a day of devastation for Marathon participants, spectators, and volunteers alike. Among those was a group of volunteers from the Athletic Training Education Program (ATEP) at Marist College (Poughkeepsie, NY) - Michael Powers, PhD, ATC, CSCS, EMT, Program Director, and a group of five undergraduate AT students. Powers, a Boston native, has taken a group of athletic training student (ATS) volunteers to the marathon annually since he came to Marist four years ago. "We were all very excited to be volunteering at such a large-scale event, something the whole city of Boston was involved in," said Ian Shultis (Lagrange, NY), a junior in the Marist ATEP who was one of the volunteers that day.
The five Marist students were among about twenty ATSs assigned to the finish line area alongside certified athletic trainers, EMTs, physicians, nurses, and other various medical personnel to give post-race assistance to those with dehydration, heat illnesses, and other common ailments seen at the marathon.
Marist ATS Kristin Kerrigan (Levittown, NY) candidly noted, "This was a day I will never forget. Seeing the runners with tears in their eyes, kissing the ground as they passed the finish line was personally touching - I then truly understood all the hype; But when that bomb went off, the high spirits and positive energy quickly diminished, turning a glorious event into devastation."
Shultis continued, reiterating some of these sentiments, "As the day progressed, there was a jubilant and excited atmosphere on Boylston Street – everyone was happy… And then there was the first blast. At first I thought it was cannon fire, but seeing smoke at ground level amidst the crowd gave me a bad feeling, which was confirmed by the second explosion. In an instant, I ran toward the area of the first blast, helped remove a barrier, and began looking for someone to attend to. I connected with Dr. Powers who was helping a family of victims and helped him apply splints, bandage wounds, and manage burns until they were transported for further medical care."
Fellow ATEP classmate Patrick Deedy (Concord, MA) similarly thought he was hearing a celebratory cannon or fireworks – until it happened a second time. "When the second blast went off a few seconds later, I knew we were under attack. I ran into the medical tent – for safety and to see what I could do to help. Inside, I assisted making way for casualties and running for supplies - big gauze pads, roller gauze, tourniquets, and splints."
Briana Croker (Washingtonville, NY), another Marist ATS volunteer stated, "Some ATSs, pedestrians, and all other medical personnel ran into the danger to help, other ATSs waited for instructions to assist, and the ATSs who were more shaken up stayed in the medical tent to help in any way they could, even though many feared more blasts were imminent. Volunteers out in the street were transporting supplies and wheelchairs between tents and others were flipping all the tables and supplies out of the way for police and ambulances, which arrived so fast that people were literally diving out of the way to let them through." All five of the Marist ATS volunteers, including Shultis, Kerrigan, Deedy, and Croker, bravely assisted Powers and other medical personnel with injured runners and blast victims until they evacuated all of the ATS volunteers within the hour following the attack.
Reflecting back on his experience that day, Deedy says, "It was a trying experience, but one that has made me, us, stronger individuals. Although very little can prepare someone for a situation like that [outside of the military or time in the ER], the emergency response training we receive as part of our AT education did give me the first aid tools that were needed that day and helped me stay as level-headed as possible to handle the situation."
Shultis added, "I think being around injuries, and being there in a position to care for the athletes made me feel responsible for their health, as well as for the well-being of the spectators. I felt like I had to make myself useful, despite the possible dangers. In the initial chaos, I found it hard to focus, but with the direction from my certified athletic trainer, I was able to use my skills and contribute to helping the victims. I feel very proud of my opportunity to volunteer at the Boston Marathon as part of my AT education."
Kerrigan agrees. "Although scary and horrific, this experience has not deterred me from wanting to volunteer in the future, but rather has made me realize my desire to help others in a time of need," she so eloquently states, undoubtedly echoing the sentiments of so many that were there that day. Following this life-changing day, these five students still returned to Marist to finish their spring semester and corresponding clinical assignments, providing the same kind of care to those student-athletes as they had done on that fateful day in Boston.
NYSATA, founded in 1976 and incorporated in 1989, stands to advance, encourage and improve the profession of athletic training (AT) by developing the common interests of its membership for the purpose of enhancing the quality of healthcare for the physically active in NY State. Comprised of over 1,200 certified and practicing athletic trainers, NYSATA is the state-wide affiliate of District II of the National Athletic Trainers' Association (NATA).
District II of the National Athletic Trainers Association is made up of the geographic region that includes Delaware, Pennsylvania, New Jersey and New York. All NATA members that reside in these states are automatically members of District 2, as well as their corresponding state AT association.