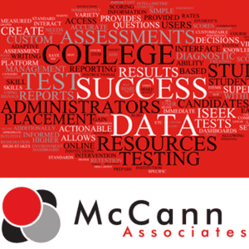 Yardley, PA (PRWEB) May 30, 2013
In their continued effort to advance higher education, Dr. Matthew Schultz, Director of Psychometrics for McCann Associates, and Scott Kramer, VP of McCann Associates, will be hosting a webinar entitled Utilizing Adaptive Assessment to Increase Higher Education Retention Rates on Thursday, June 13, at 4pm EST. This complimentary discussion takes an in-depth look at the benefits of adaptive assessment and remediation tools, with specific focus on increasing student retention rates at colleges and universities nationwide.
"This webinar provides case studies and analytics to showcase how adaptive assessment and remediation can play a critical role in increasing retention rates," reports Kramer, "Participants will be able to learn how other states are utilizing adaptive technologies for better targeted placement to further student success."
In addition, participants will be shown the connection between accurate placement and long term academic performance. Special attention will be given to the importance of targeted remediation resources to address specific areas of concern following each student's assessment.
Participants can reserve their place for this webinar at https://www1.gotomeeting.com/register/410618865.
###
McCann Associates is the world leader in higher education technologies. Leveraging artificial intelligence, linguistics and advanced data management platforms, McCann Associates is committed to meeting the needs of its higher education clients. The company's IntelliMetric® platform has been called the "Gold Standard" in automated essay scoring and is the basis for adaptive assessment for major colleges, universities and state-level Departments of Education throughout the country.