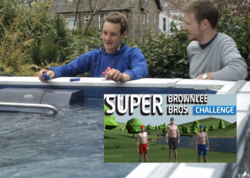 We merged the worlds of sport and technology.
(PRWEB) May 31, 2013
The Super Brownlee has arrived.
Piecing together the best of champions Alistair and Jonny Brownlee, Intel has developed a video game that allows the two to race against a hybrid Brownlee, created through 3D scanning.
"The Super Brownlee combined the best of both of us," said Jonny.
The result is a unique training opportunity, which uses Intel's cutting edge technology and the ideal setting for the game—an Endless Pool®.
While Super Brownlee was ultimately unbeatable, the brothers put themselves to the test against the Endless Pool swim current to see how they measured up.
"We merged the worlds of sport and technology," said Alistair. "It's opened our horizons in terms of bringing technology into the training environment."
The tandem initially developed the game in the same backyard pool that Alistair used to rehab from an Achilles injury and train in leading up to his Olympic Gold in the 2012 London Olympics. His Endless Pool came equipped with an aquatic treadmill, which allowed for the low-impact running he needed.
Jonny, despite a penalty, earned a Bronze medal in the event, and is the reigning Triathlon World Champion.
For the 'Super Brownlee Challenge,' the Intel team took the Brownlees to an indoor location, showing the Endless Pool's versatility as a perfect training tool for the yard or the garage.
Using a large video screen outside the pool to keep track of the race, Intel's team used an Ultrabook™ to run the game, as well as two additional Ultrabooks underwater along with underwater speakers and lights.
Ultimately, Alistair matched up best against the Super Brownlee, though Jonny wasn't far behind. In the end, the two couldn't quite keep up with the unbeatable Super Brownlee, though they both appreciated the challenge.
"I'm looking forward to seeing where it goes," said Alistair.
The future of technology is promising for swim training, and the sport of triathlon can benefit greatly from the advances that Intel and Endless Pools provide.
ABOUT ENDLESS POOLS:
Endless Pools, established in 1988, has served over 20,000 customers worldwide, and offers compact, customizable pools for indoor or outdoor use. With a series of six innovative products and an adjustable, fast, smooth swim current, the product can be tailored for rehab, competitive training, or family fun. Low-maintenance and environmentally friendly, Endless Pools has a product to meet virtually any need, from the novice swimmer to the Gold Medal triathlete.
For more information, visit http://www.endlesspools.com.
ABOUT INTEL:
Intel's creative #Itsyourworldnow initiative took a turn into the world of sport after the company worked with Grammy award winning musician Imogen Heap and acclaimed fashion designer Christian Joy. Their Ultrabook combines portability and performance in a sleek, powerful, lightweight machine that offers touch screen or traditional laptop usage.
Click here to learn more about Jonny and Alistair Brownlee's complete journey with Intel.