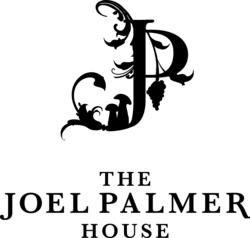 It enlivens and complements the classic eau de vie de poire...
Dayton, Oregon (PRWEB) May 31, 2013
Chef Christopher Czarnecki is exited to celebrate the three year anniversary of welcoming Andréa Fulton-Higgins to the Joel Palmer House restaurant staff. Fulton-Higgins, a self-taught sommelier who has risen through the ranks to become a respected wine professional, brings over two decades of wine service and hospitality experience to the Joel Palmer House.
"It's a perfect fit!" says Fulton-Higgins. "The entire staff is a wonderful team that appreciates what I bring to the table." Fulton-Higgins reflects on her career path: "I really wanted to experience a variety of wine related jobs. I enjoyed them all and each venue taught me something about the world of wine and its connection to what I do best."
Taking advantage of locally produced spirits and imported liquors as well as fresh herbs from the culinary garden, Fulton-Higgins has developed an exciting new cocktail program for the Joel Palmer House. For guests looking for the consummate Joel Palmer House cocktail, Fulton-Higgins offers the Mushroom Martini, dry or off dry, made from a mix of house-infused candy cap mushroom liqueur and vodka. Earthy but not savory, with a sweetness reminiscent of maple, it's perfect as an aperitif or digestif.
When Fulton-Higgins challenged herself to create a cocktail utilizing Oregon's Clear Creek Distillery Pear Brandy, one of the Chef's favorites, St. Germain elderflower liqueur was the perfect counterpoint. Fulton-Higgins notes, "It enlivens and complements the classic eau de vie de poire and gives a sense of body that completes the cocktail." Adding in a splash of cranberry and hint of muscat, The Pink Blossom is the result: floral but not cloying, it won't shock your palate before your meal and is the perfect refresher after a day of tasting in wine country.
About The Joel Palmer House Restaurant
The Joel Palmer House's innovative and exciting menu features choice local produce, wild mushrooms and Oregon truffles. Chef Christopher Czarnecki and family strive to incorporate seasonal ingredients and use many locally grown vegetables, including many from their own on-site garden. Chef Christopher Czarnecki has created a tantalizing, creative menu that marries perfectly with the world renowned Pinot Noir of Oregon's Willamette Valley.
Of note, the Joel Palmer House ranks as one of Oregon's finest historic homes and is on the National Register of Historic Places and the Oregon Historic Register. Built in 1857, the house is Dayton's oldest standing structure. When weather permits, guests can enjoy their dinner on our outdoor patio, soaking in the last rays of sunshine in the heart of Oregon Wine Country.