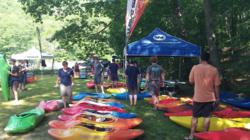 Charlemont, MA (PRWEB) May 31, 2013
For the 10th year in a row, Zoar Outdoor, in Charlemont, Massachusetts, will host a three-day whitewater demo event. DemoFest, held from June 21 to 23 this year, will feature the latest in kayaks, canoes, and standup paddle boards, allowing paddlers to try out all the best gear for free on the Deerfield River. All weekend long, whitewater experts will also be on hand to lend help and advice to all paddlers.
Boats from Dagger, Esquif, Jackson Kayak, Liquidlogic, Mad River Canoe, Pyranha and Wave Sport will be available for demo as well as paddles from Werner Paddles and AT. Free mini-clinics will be held throughout the day, led by manufacturer representatives, professional paddlers, Team Z members, and Zoar Outdoor instruction staff. These clinics will cover a range of topics including river run skills, combat rolls, effective biomechanics for paddling, and river rescue. Apart from instruction, there will also be opportunities for advanced paddlers to the class III and IV Dryway section of the river with Team Z members and professional kayakers.
Each day starts with registration and continental breakfast at Zoar Outdoor, where paddlers can borrow a wetsuit, booties and splash jacket if needed, or check out The Outfitters Shop for new whitewater gear. After stopping by Zoar Outdoor, paddlers continue on to the Zoar Gap picnic area, where DemoFest booths will be set up and paddlers can browse through the tents, chat with pros, sign up for mini-clinics and sign out boats.
Saturday evening wraps up with barbecue dinner and movie night that kicks off Zoar Outdoor's 20th annual Film Series, with films exploring the world and life of whitewater kayakers.
The entire weekend is free for paddlers, though we encourage interested individuals to pre-register as spots are limited. Zoar Outdoor is please to be able to offer this event at no cost to paddlers, and asks that they consider showing their support by donating to American Whitewater, American Canoe Association, or First Descents - all organizations that support the whitewater community.
DemoFest weekend is a perfect way for experienced paddlers to learn from the best in the sport, find a boat to push their skills, or hear about the latest developments in the sport, all while making new connections in the whitewater community.
For more information or to pre-register, visit the DemoFest event page, or contact Zoar Outdoor at 1-800-532-7483.