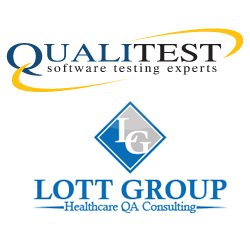 Combining our data assets with QualiTest's healthcare testing experience, talent and test automation accelerators allows us to deliver an end-to-end solution based on our medical data approach
Fairfield, CT (PRWEB) May 31, 2013
With the October 2014 deadline of ICD-10 implementation approaching, many healthcare organizations are planning their roadmap to compliance. It is clear that comprehensive testing is required to verify that systems integrate with each other while using ICD-10. "Most solutions are based on a technical approach using crosswalks which are not accurate enough. That's why we chose to create a medical dataset, dual coded in both ICD-9 and ICD-10," said Mark Lott, Lott QA Group CEO. "Combining our data assets with QualiTest's healthcare software testing experience, talent and accelerators allows us to deliver an end-to-end solution based on our medical data approach," he added. The Lott QA methodology for medical datasets is the basis behind both the NCHICA and HIMSS WEDI ICD-10 pilots.
The peer-reviewed dual coded medical records are entered into the relevant systems using automation accelerators. The data then flows across the organizations as well as back and forth to the relevant trade partners, with results being compared to the expectations which are included in the data set and are known to be correct. "The use of automation accelerators to automate data entry of large verified medical and claims datasets allows us to dramatically increase test coverage while keeping the cost down" explained Subba Jevisetty, Director of Healthcare Testing Services at QualiTest. "Since we use verified medical records and claims data to run through the healthcare systems, we reveal system defects, not coding or crosswalk errors," he added. This efficient approach is expected to yield savings of up to 70%.
"We are honored to partner with an innovative company such as Lott QA Group" said Yaron Kottler, QualiTest US CEO. "The data assets created by Lott QA Group combined with QualiTest's healthcare testing services, offer a unique solution that yields higher coverage at a lower cost," Mr. Kottler added.
"We are excited to team up with the world's second largest independent testing company," said Mark Lott, CEO of Lott QA Group. "Comprehensive testing of technology, people and clinical workflows is essential for ICD-10 success. Our combined service allows providers and payers to make sure they're prepared for the upcoming code changes."
About QualiTest
QualiTest Group is the world's second largest independent QA and testing company. QualiTest offers Quality Assurance and Software Testing services, and is committed to improving quality by providing superior QA solutions to customers and partners worldwide while advancing QA and testing methodologies.
Through our software testing professionals located either on-site or at test centers around the world, we provide a variety of services to a broad portfolio of clients that include large and small organizations and global Fortune 500 companies. We have a strong presence in the USA, Europe, Israel and Asia. QualiTest serves a wide variety of markets, including Healthcare, Aerospace & Defense, Government, Insurance, Telecom and many others.
For more information about QualiTest, please visit http://www.QualiTestGroup.com
About The Lott QA Group
The Lott QA Group is a professional healthcare IT quality assurance and consulting firm delivering advanced testing solutions in healthcare, HIPAA EDI and ICD-10 medical testing life cycles. The Lott Method is the most widely used end-to-end testing process in the country and is currently in use at both the state and national levels.
For more information about Lott QA Group, please visit http://www.lottqagroup.com