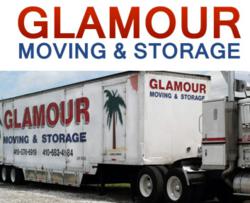 Baltimore, MD (PRWEB) May 31, 2013
Considering the increased demand in moving services during the summer months, Glamour Moving & Storage advises Maryland homeowners to plan moves in the middle of the month, while scheduling in-home estimates and move dates as far in advance as possible, preferably between Monday and Thursday to ensure the availability of the movers.
According to the U.S. Census Bureau, 47.3 million Americans move every year, which means some 130,000 people are relocating every day within the U.S. or moving out of the country.
"Summer in general, and June in particular, is the busiest season for movers in Maryland because it's easier for kids to switch schools and the weather is perfect," shared Daina Dill, spokesperson for Glamour Moving & Storage, local Maryland moving company.
According to the recent migration study by the United Van Lines, Maryland is a relatively balanced state when it comes to migration rates: it gained approximately the same number of residents as it lost, keeping the interstate movers busy.
"It can get very busy in summer, so we recommend our customers to plan the move for mid-month and choose a day between Monday and Thursday to ensure maximum attention and quality control on the part of their Maryland movers," added Dill.
She went on to explain that a great volume of moves happens at the end of the month and over a weekend – when lease agreements and rental contracts end and home settlement statements are being signed.
"Because majority of the professional moving companies are already booked, Maryland residents looking to move during the busiest times risk falling victim to rogue operators – scam artists who take advantage of customers who rush the move and don't do the research," warned Dill.
Baltimore Business Bureaus across the U.S. received over 9,000 complaints against moving companies in 2011 alone. The complaints range from poor service and damaged items to holding the entire load hostage or violating the binding estimate agreement.
"This is why it's important to plan the move ahead, research your Maryland moving company and book the moving dates a few weeks in advance to reduce move-related stress and avoid scam artists," concluded Dill.
About Glamour Moving & Storage
Founded in 1973, Glamour Moving & Storage has more than 35 years of experience in providing local and long-distance moving and storage services in Maryland, Virginia, Pennsylvania and entire East Coast. Fully insured and bonded, the company is family owned and operated. The staff of more than 20 professionally trained movers takes pride in providing excellence in customer service. For more information, please visit http://www.glamourmoving.com.