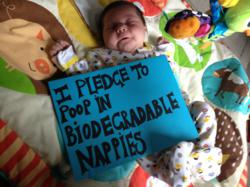 Individually these are small changes but if everybody made similar decisions the result would be significant.
London, London (PRWEB UK) 31 May 2013
AFOBI furniture stores are known for inbuilt wardrobes, funky coffee tables and bespoke kitchens. AFOBI has an environmental focus as the business specialises in products made using with sustainable timber. The company is participating in the 'Greening the Blue' photography competition, organised as part of the UN World Environment Day. The competition is open to anyone who wishes to submit a photo featuring their environmental pledge.
Why has AFOBI entered a picture of a baby into the competition? 'Our daughter, born just 12 days ago, is the newest member of the family business. She is entering a world with significant environmental problems' explains company director, Zack Newman. 'As she is too young to make environmental pledges we decided to help her write the sign. Biodegradable nappies are more expensive than the standard alternatives but waste is an important issue. There are plenty of improvements we can make to the business as well but change starts at home.'
Nappies, also known as diapers, account for 4% of all waste sent to Landfill in the UK. 3 billion nappies weighing 690,000 tons are dumped every year. The annual cost of landfill in Britain is £100,000,000. Nappies can be recycled. It is also possible to run reusable nappy collection and cleaning programs. Although these systems reduce carbon emissions neither are currently economically viable. Busy parents have limited options. Either buy cheap non-biodegrade products, expensive biodegradable nappies or spend precious time cleaning reusable nappies at home.
The World Environment Day event began in 1972. It is now one of the most important dates in the environmental awareness calendar. The United Nations Environment Programme aims to personalize environmental issues and in order to create an individual sense of responsibility. This year the theme is 'Think.Eat.Save'. The event aims to encourage greater consideration of the environmental impact of food consumption habits.
Although AFOBI attempt to follow environmental best practice there is certainly plenty of room for improvement, 'We already recycle waste paper and cardboard. At the moment we use a lot of plastic in our furniture packaging and we will continue to look for ways to substitute this with recycled and recyclable materials. We would also like to use less fuel for deliveries but electric vehicles are currently very expensive' comments Zack Newman.
Many businesses have corporate social responsibility policies but these can often take a back seat compared with securing profits. In order to make the world environment day event more personal AFOBI have requested an commitment from every employee. 'Each member of staff is making a pledge. These include walking to work, eating vegetarian lunches and turning their computers off at the end of the day. Individually these are small changes but if everybody made similar decisions the result would be significant.' comments Zack Newman.
Notes to Editors
Information on World Environment Day taken from:
http://www.greeningtheblue.org/
Information on nappy recycling taken from:
http://www.waste-management-world.com/articles/print/volume-13/issue-5/wmw-special-recycling-focus/nappy-recycling-is-the-uk-ready-to-run-walk-or-crawl.html