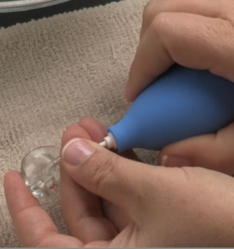 It's easier to clean hearing aids on a regular basis, but spring is a great time to really get your hearing aids in perfect working order.
Eden Prairie, MN (PRWEB) May 30, 2013
The sounds of spring are so appealing – children laughing as they play, birds singing from the budding trees – it would be a shame to miss even a minute of nature's spring song. Many people are inspired to better care for themselves in the spring, and for those who wear hearing aids, part of that personal spring cleaning routine should be to spend a little extra time with the care and upkeep of hearing instruments.
"It's extremely important to keep your hearing aids clean and dry," said Sara Burdak with Starkey Hearing Technologies and Hearing-Aid.com. "It's easier to clean your hearing aids on a regular basis, but spring is a great time to really get your hearing aids in perfect working order."
The following tips provide a refresher on the process of cleaning hearing aids and also offer some reminders about what not to do in order to keep hearing aids in great condition.

Remove earwax. Earwax is a combination of natural salts and acids that can cause permanent damage to hearing aids if it is allowed to build up on the instruments. Keep hearing aids free from earwax to avoid problems; a hearing professional can help.
Use the right tools. Hearing aids that are purchased from an authorized dealer come equipped with special cleaning tools which should be used according to the manufacturer's instructions. Using other tools for cleaning can permanently damage a hearing aid.
Clean hearing aids every night. A dry, soft cloth is best for cleaning. Alcohol swabs or cleaning solvents should never be used as they may degrade and damage hearing aids.
Battery contacts should be cleaned regularly. Dirty battery contacts can prevent a hearing aid from being fully powered, and can also cause intermittent transmission problems. Plain cotton swabs are best for cleaning battery contacts.
Store hearing aids properly. When not in use, hearing aids should be stored in a cool, dry place. Hearing aid batteries can be preserved by leaving the battery door open or removing the battery overnight.
Keep hearing aids dry. Hearing aids should be taken out before a shower, swim or sauna. They should be replaced after using a hair dryer or hair spray.
"Starkey offers instructional videos that show how to care for all types of hearing aids," said Burdak. "They're really helpful for first-time hearing aid users, and for people who aren't 100 percent sure about the best way to take care of their hearing instruments. While you're opening windows and airing out the house, be sure to give your hearing aids a little spring cleaning, too."
For more information about hearing aids, visit Hearing-Aid.com.