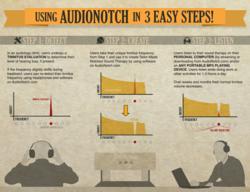 Patients no longer have to choose between affordable treatment and scientifically-backed treatment.
Toronto, Ontario (PRWEB) May 31, 2013
With the plethora of tinnitus treatments available on the market today, it's difficult for people suffering from tinnitus to select from the many options available. Patients often have to select between two extremes: therapies with some scientific evidence behind them (but which are cost prohibitive), or affordable therapies (which usually lack scientific evidence).
With the availability of AudioNotch's advanced tinnitus treatment program, users no longer have to make this difficult choice - they can have both. AudioNotch's Tailor-Made Notched Sound Therapy is based on academic European research, and the firm is currently collaborating with some of the original researchers. Furthermore, AudioNotch is available to users at affordable price points.
AudioNotch's innovative program uses web-based software to maintain a low cost of delivery for the service. Competing sound therapy providers typically require the usage of expensive proprietary listening devices - glorified MP3 players - whereas AudioNotch users can listen to their sound therapy with any device capable of playing MP3 files. The entire therapy can be created on-line and is customized for each individual's unique tinnitus frequency.
As an alternative to on-line tinnitus frequency detection, users also have the option of detecting their tinnitus pitch in person inside of participating audiology clinics.