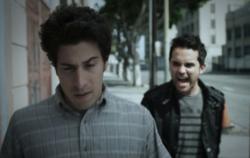 Los Angeles, California (PRWEB) May 31, 2013
Rip Media Group announces Maury Rogow and Nathan Bishop as Co-Producers of the feature film SNAP, a psychological thriller starring Jake Hoffman, Nikki Reed, Thomas Dekker, Scott Bakula, and Jason Priestley.
Cima Productions is currently in production on the film, having built on the momentum of last years appearance at Sundance Film Festival, with Filly Brown. (Filly was brokered by Alexis Garcia for William Morris Endeavor, and acquired by The Indomina Group).
Rip Media Group has been working with the production team at CIMA since the production of 'Bedrooms' (Showtime Network, The Movie Channel). Rip Media produces branded product entertainment with motion graphic and whiteboard video (for promo videos, corporate video productions, and 'explainer videos') and is based in Los Angles, like CIMA. The founder looked to work with CIMA Productions on another feature film.
"We are proud to be working with the team once again," said Maury Rogow, President of Rip Media Group. "Both sides can only gain by being close to this talented production team, at the same time, Nathan and I were happy to support this exciting film at the right perfect time."
Youssef Delara said working with Maury Rogow and the team at Rip Media Group has been a pleasure. Having him on board on this film was great timing and a value add for the production.
http://www.RipMediaGroup.com was founded by a team of sales and marketing directors who developed creative, visual, and compelling campaigns that resulted in record setting growth. RipMedia focuses these same skills on increasing sales, creating demand, and generating growth in companies as well as charitable organizations.
RipMedia's mission is to expand your business by with integrated marketing: motion graphic videos, whiteboard videos, live action video, and integrate website optimization, and social marketing.