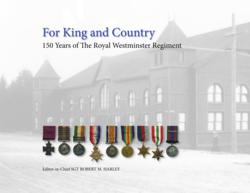 The critical and financial success of this project should inspire other non-profit organizations to celebrate their achievements.
Vancouver, BC (PRWEB) May 31, 2013
For King and County: 150 Years of The Royal Westminster Regiment, a book written and published without pre-existing funding, placed third in the annual historical writing contest sponsored by the BC Historical Federation. The judges evaluated thirty entries on the basis of scholarship (quality of research and documentation, comprehensiveness, objectivity and accuracy), presentation (organization, clarity, illustrations and graphics) and accessibility (readability and audience appeal).
The book was entirely self-funded through a campaign coordinated by the book's publisher, Vivalogue Publishing. Primarily a pictorial history, the book is hard cover and contains 328 full-colour pages of photographs and anecdotes as well as complete embarkation rolls from the Boer War, both World Wars and the Afghanistan conflict. A volunteer book team, coordinated by Sergeant Robert Harley, assembled the content, much of which was published for the first time.
Vivalogue is a specialty publisher which has developed three different funding models for non-profit organizations wishing to tell their story while raising much-needed funds. "The critical and financial success of this project should inspire other non-profit organizations to celebrate their achievements," said Lynn Duncan, Vivalogue's director.
In order to fund the book, Vivalogue developed and administered a comprehensive marketing plan using both electronic and print mediums. All current and former members of the Regiment and their families were invited to contribute to the project as sponsors, supporters or purchasers. Sponsors and supporters were listed in the book's preface and received their copies from the Honorary Colonel at a VIP launch held in December of 2012. Major Book Sponsors, who contributed $500 or more, could include a brief dedication and received two limited edition volumes, each in a custom slipcase. For $150, Book Supporters received one numbered edition. Purchasers were able to pre-order at a reduced price of $80.
The Royal Westminster Regiment is the oldest active military unit in British Columbia. The New Westminster Volunteer Rifles, predecessor to The Royal Westminster Regiment, were granted authority by Governor Douglas on November 20, 1863. As a fighting force, the Westies have been involved in every major conflict of the post-Victorian era. The Westies also have a long history of community support including the New Westminster Great Fire in 1898, the Fraser Valley floods in 1948, the Okanagan wild fires of 2003 and the Vancouver 2010 Olympic and Paralympic Winter Games.
About Vivalogue Publishing
Vivalogue is a specialty publisher which helps individuals and organizations create professional-quality books and realize the benefits of self-publishing without the administrative burden. Vivalogue offers research, writing, editing, design, printing and marketing services in Canada and the United Kingdom.
For Media inquiries, contact:
Lynn Duncan
Vivalogue Publishing Canada Ltd.
604-522-6222/604-512-9997
lynn(at)vivalogue(dot)com