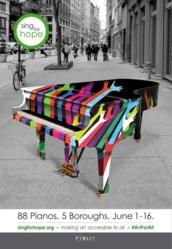 The wonderful team at Vivaldi Fifth Season elevated the Sing for Hope Pianos project in ways that exceeded our expectations
New York, NY (PRWEB) May 31, 2013
On June 1st, 88 pianos will appear in parks and public spaces throughout New York's five boroughs for anyone and everyone to play through the Sing for Hope Pianos project. Vivaldi Partners Group's design and digital arm - Vivaldi Fifth Season - was tapped by the Sing for Hope organization to create a campaign for spaces donated by the Pvblic Foundation.
To create greater awareness for the organization, the Vivaldi Fifth Season team created a concept called "Here," that focused on the interruptive nature of pianos in the public space. The final advertisements can now be seen on phone booths and bus shelters across New York.
"The wonderful team at Vivaldi Fifth Season elevated the Sing for Hope Pianos project in ways that exceeded our expectations. Vivaldi's deep understanding of our mission of 'art for all' illuminated their work with us, and their crackling creativity and sense of fun made it a joy to collaborate with them," said Camille Zamora and Monica Yunus, Co-Founding Directors of Sing for Hope.
"We are very honored to be involved in the Sing for Hope Pianos project," said Agathe Blanchon-Ehrsam, Executive Director of Vivaldi Fifth Season. "The social mission of Sing for Hope is very aligned with our values at Vivaldi Partners Group. It was very special for us to be able to come up with a creative campaign behind this project."
The Sing for Hope Pianos will run from June 1st until June 16th. A full list of the piano locations can be found at http://singforhope.org/map. After their public residency in NYC's parks and public spaces, the pianos will be donated to under-served schools, hospitals, and community organizations, enriching communities for years to come.
About Vivaldi Fifth Season
Fifth Season is the digital, design and technology agency of Vivaldi Partners Group (http://www.vivaldipartners.com/). Vivaldi Fifth Season is a creative powerhouse that orchestrates and produces innovative, engaging branded experiences that allow businesses to connect with their audiences and create entire new business models based on the strength of these new relationships.
About Sing for Hope
The Sing for Hope vision of ART FOR ALL is informed by our belief that the arts have unique power to uplift and unite individuals and communities. Our outreach programs in NYC's under-resourced schools and healthcare facilities demonstrate this every day, and the Sing for Hope Pianos are a summertime celebration that bring this to every corner of our city. If you are one of the millions of New Yorkers who have played the outdoor pianos in Times Square, Brooklyn Bridge Park, and other parks and public spaces in the summertime, you know why Sing for Hope Pianos are NYC's most beloved public art project. Support is provided by Chobani, Inc. and Sing for Hope's Founders' Circle including The Arnhold Foundation in honor of Sissy Arnhold, The Kellen Family Foundation, and Ann Ziff. For more information, please visit singforhope.org.