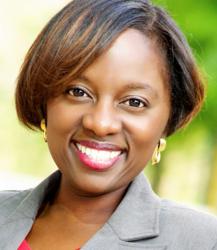 Public speaking is one of the biggest fears in the world and I am privileged to help small business owners not only get past it, but surpass it.
Atlanta, GA (PRWEB) May 31, 2013
Angela Ray of Angela Ray International will be one of the trainers at the Thrive Business Transformation Academy which will be held from June 13-16, 2013 in Charlotte. The event, produced by Tina Brinkley Potts LLC, is an ideal platform for small business owners and solo entrepreneurs to get real world teaching on how to grow their businesses in the new economy.
Ray is a seasoned speaker. She holds a degree in Speech Communication from the University of North Carolina at Chapel Hill and has received numerous awards for her speaking. She also worked as an undergraduate teaching assistant in Public Speaking. In addition to running her own speaking business, Ray held a speaker/trainer contract with Monster.com for over 10 years, training speakers from around the country.
Ray's presentation will focus on how small business owners can leverage speaking in their everyday operations. "I am so excited to share my expertise with the participants of the Thrive Business Transformation Academy," Ray said. "Public speaking is one of the biggest fears in the world and I am privileged to help small business owners not only get past it, but surpass it."
During her training, Ray will work with some participants onstage with her live "Presentation Transformations". Audience members will see firsthand how their fellow participants deliver a talk before working with Angela and after Angela coaches them through the best practices.
Teaching small business owners technology is at the core of Thrive Business Academy, along with fundamentals of leveraging their expertise for additional success. According to the 2013 AT&T Small Business Technology Poll, which surveyed 1000 businesses nationwide, 66% of small businesses plan to invest as much or more in digital marketing as they did the previous year. "I am excited small business owners and entrepreneurs, especially traditional brick and mortar business owners, are finally embracing technology and digital marketing to grow their businesses," said Tina Brinkley Potts, Founder of Thrive Business Transformation Academy.
Thrive Business Transformation Academy is open for registration for its next session on June 13 through June 16th, 2013 in Charlotte, NC. For free video training on how to implement the 8 Pillars to Thriving in This New Economy please visit http://www.thrivebusinessacademy.com. Seats are selling out quickly for this transformational June event. To register now, find out more by calling (877) 310-7479.
About Angela Ray International
Angela Ray is an award winning speaking and author who has spoken to thousands of audiences around the country. She created Angela Ray International LLC to empower individuals and organizations. A recognized authority on leadership and communication, Ray is committed to transforming lives and developing megastar leaders.
About Thrive Business Transformation Academy
Thrive Business Transformation Academy (TBTA) trains business owners and entrepreneurs with the tools and strategies necessary to thrive in this new economy. TBTA affirms that strategic placement of technology in areas of digital marketing, outdated overhead and follow up are the keys to affecting positive growth for companies today.