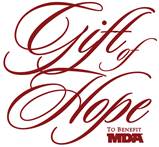 "We're pleased to recognize both Jeff Reuter and Charlene Prager with Man and Woman of the Year awards at this year's gala," said Gala Co-Chairman Frank DiBella.
Newport Beach, California (PRWEB) May 31, 2013
The Muscular Dystrophy Association is serving up an evening of fine dining and auctions at the 18th annual Gift of Hope Gala on Saturday, June 8, 2013, at the Balboa Bay Club in Newport Beach.
This year, 400 guests, including Orange County business and community leaders, are expected to attend the gala that is "Serving Up a Cure" to recognize the tremendous support that Orange County restaurateurs have shown to the Association over the years.
The Association will honor legendary Newport Beach businessman and trailblazing restaurateur Jeff Reuter as the 2013 MDA Gift of Hope Man of the Year, as well as philanthropist and restaurateur Charlene Prager as the 2013 MDA Gift of Hope Woman of the Year.
"We're pleased to recognize both Jeff Reuter and Charlene Prager with Man and Woman of the Year awards at this year's gala," said Gala Co-Chairman Frank DiBella. "Their impressive restaurant ventures and culinary backgrounds, combined with their philanthropic nature, make them both ideal recipients for this honor."
Reuter has built his reputation over the years as a significant force in the restaurant industry, currently leading the robust O.C. culinary scene as owner of local favorites 3-Thirty-3 Waterfront and DivBar Bayfront Kitchen. He also is also active in numerous clubs and governing boards, and he co-founded the Southern California Restaurateurs Society.
Fellow honoree Charlene Prager is not a newcomer to the restaurant industry, having grown up with restaurateur parents. She worked alongside her husband Hans Prager, a well-known restaurateur in Southern California, for 25 years at The Ritz Restaurant and Garden, which led her to establish The Ritz Sisters, a charitable luncheon group. She also served on various boards while volunteering with numerous organizations in the community. Today, she remains active with The Ritz Sisters and the Women of Chapman Board.
This year's gala will feature cocktails and a silent auction, followed by dinner from Orange County's premier chefs.
Guests also can participate in the live auction, where they will have the chance to bid on luxurious packages such as a Baume & Mercier fine timepiece, a seven-day luxury European vacation from Traditional Jewelers, and a tropical stay on the island of Kauai.
Other packages include a private Epicurean Wine Cellar dinner for the winner and up to 20 guests, or the chance to win a personal meet-and-greet with actress Eva Mendes, which includes a chauffeured Rolls-Royce for the evening.
Since the gala's inception, more than $5 million has been raised to support the 6,000 Southern California families living with muscle disease.
About MDA
MDA is the nonprofit health agency dedicated to finding treatments and cures for muscular dystrophy, ALS and related diseases today affecting more than 1 million Americans. It does so by funding research, providing comprehensive health care and support services, and through advocacy and education.
In addition to funding more than 250 research projects worldwide, MDA maintains a national network of 200 medical clinics; facilitates support groups for families affected by neuromuscular diseases; and provides local summer camp opportunities for thousands of youngsters with progressive muscle diseases.
For more information, visit mda.org and follow us on Facebook at facebook.com/MDAnational and Twitter @MDAnews.