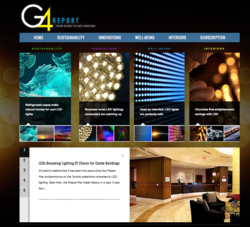 Businesses of all kinds are switching to LED lighting, from big-box furniture retailers to hotel chains to supermarkets.
Toronto, ON (PRWEB) May 31, 2013
In the latest news and information about LED lighting, the G4 Report highlights a number of churches that have "seen the light" and realized savings on their lighting bills by converting to LED. The average Church consumes substantial power to illuminate the place of worship and the wrong kind of lighting can really eat up the dollars—dollars that could be put to much better use. And the same is true for organizers of another kind of wonder, the seasonal light festival. These big-budget light displays can run tens of thousands of dollars. These stories are in the G4 Report, as well as why experts say that this could be the year consumers finally start using LED lighting in their homes.
"Churches find enlightenment, savings with LED"
The average modern church is a big place, not unlike a theatre, with seating for the congregation, and an abundance of lighting. Churches in increasing numbers are converting to LED lights to reduce power bills and lower heat created by bulbs, further reducing bills by reducing load on air conditioners. Many churches find the LED conversion also beautifies the house of worship, with pleasant lighting and less glare. LED lighting is also quieter than bulbs such as fluorescents, important during moments of silence. Read more about churches switching to LEDs.
"LEDs give festivals something to really celebrate"
Light festivals are popular events, but even a moderately sized light festival can use hundreds of thousands of lights to create the big, colourful displays people appreciate. On this scale, designers are increasingly adopting use of 12-amp LED lights than with the old 85-amp bulbs, leading to thousands of dollars in savings. Their displays are also enhanced by better colour, brighter lights, lower costs—and the freedom to design bigger displays. Read more.
"Business loves LED lighting; consumers are catching up"
Businesses of all kinds are switching to LED lighting, from big-box furniture retailers to hotel chains to supermarkets, according to Digitimes Research, heading towards 25.8% marketshare by next year. One reason is that many global businesses have made sustainability part of their corporate culture, and switching to LED lighting fits perfectly with that vision. A major consideration is realized savings on energy bills. To date, consumers have not embraced LED lighting for home use in anything like the same numbers. Japan has the highest rate of consumer adoption, and there it's just about 50 per cent. Analysts say it's the cost. Until the cost of a single light bulb comes down to what the average consumer considers reasonable, around $10, the average consumer won't buy it, regardless of the longer life of that bulb and the long-term savings it will bring. Read more here.
About The G4Report
The G4Report is your comprehensive and entertaining source for news and information about LED lighting in all its applications, with an emphasis on commercial applications. Anywhere that LED lighting is saving businesses money and improving their environmental performance, we're there to report it, under one of the following categories:

Innovation: stories about the latest LED R&D and what you can expect to see in the future: would you believe LiFi?
Sustainability: learn how LED lighting helps reduce greenhouse emissions and landfill.
Well-being: from hospitals to NASA to light therapy, LED lighting is having a profound effect on the way we provide health care.
Interiors: innovative new LED lighting products are changing the way we approach interior design, making it possible to do things we never imagined before. We cover them all.
The G4 Report is a publication of Zines Online, a service of Persona Corp.