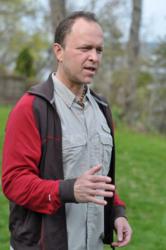 "The world needs good men to become even better," former Marine officer and men's coach Tom Kelley says.
(PRWEB) May 31, 2013
Are you ready to step into the "new manhood"?
Tom Kelley is ready to guide men who are.
Formerly a Marine officer and then in corporate sales, Mr. Kelley saw firsthand what the cultural paradigm of masculinity was doing to men's lives. Between 2002 and 2009 he undertook a series of trainings with the Institute for Integrative Nutrition and healing arts pioneer Tom Monte. In 2010 he became seriously ill with aplastic anemia, a potentially fatal blood disease, and spent a month in isolation at Sloan Kettering hospital before receiving a lifesaving bone marrow transplant. "That experience of facing my own mortality brought home the knowledge that life is short and there's no time to waste," he said.
He has facilitated men's groups in New York City, the Hudson Valley and Connecticut for three years, creating the space for men to talk openly about their experiences and struggles with work, family, and relationships--as well as to celebrate their successes. Aware of the under-representation of men within the yoga/wellness/nutrition/self-help worlds, he finds value in men-only space because it can support participants to make changes in their lives and to work on expressing their vulnerability -- which is harder when women are around, he says.
But maybe this under-representation is shifting. In an audio class available for download on http://www.opendeepandtrue.com, Mr. Kelley speaks of certain shifts in the modern cultural conception of masculinity that involve moving away from traditionally-valued stoicism and alpha-male competitiveness -- instead, he says, there's an increased acceptance of emotional self-awareness, spiritual practice and egalitarianism. His program's Facebook page is populated with links to articles bearing titles such as "Modern masculinity means a man can cry with his daughter" and "More men embrace yoga."
But it's not about being a "sensitive New Age guy." To Mr. Kelley's eye, stepping into the "new manhood" also involves learning the confidence and emotional self-mastery to be clearer, more powerful, and more intentional in personal relationships as well as in business. "There are many powerful women out there who have been empowered by feminism, and by women's communities that create a space for personal and spiritual development," he says. "Unfortunately, there's a lack of equivalent resources for men."
His new program, "Open, Deep and True", is a four-month teleclass that will begin in July. With space for 10 men, it will deliver content and tools via e-mail and biweekly training calls, and Mr. Kelley will host monthly group coaching sessions by phone. The curriculum draws on eclectic sources, including yoga, meditation, Compassionate Integration Counseling and nutrition guidance, but Mr. Kelley aims to create a program that's highly accessible to newcomers to these topics. Particular areas of focus will be what he calls "the new workplace" and expanding the masculine role within personal and intimate relationships.
"The world needs good men to become even better," he says. As topics such as gender violence, rape culture, the men's rights movement and the Steubenville rape case become more and more part of widespread discussion on gender and masculinity, Mr. Kelley's program offers a practical and hands-on exploration of what's possible within the new manhood.