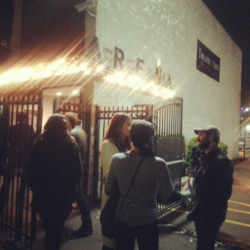 Independent films need as many theatrical screens as possible and Arena is making that happen for these films to be seen in theaters.
Los Angeles, CA (PRWEB) May 31, 2013
Arena Cinema is pleased to announce its upcoming June schedule of new film releases and Los Angeles engagements. The new independent film venue located in Hollywood powered by Voltaire Media will be presenting films from distributors Kino-Lorber, IFC Midnight, Oscilloscope Laboratories and Phase 4 Films.
Beginning June 7th, Arena screens "Welcome to Pine Hill" directed by Keith Miller. The acclaimed new film from Oscilloscope Laboratories blurs the line between documentary and fiction and follows protagonist Shannon, a reformed drug dealer who is now an insurance claims adjuster, in the days following a grim medical diagnosis. Shannon, portrayed in an extraordinarily intimate performance by first time actor Shannon Harper, sets out to make peace with those around him and in turn find his own peace beyond the cacophony of New York City. "A Welcome Breath of Fresh Air," wrote the Hollywood Reporter.
Also opening June 7th is Kino-Lorber's new documentary on master magician and actor Ricky Jay titled "Deceptive Practice: The Mysteries and Mentors of Ricky Jay." The film traces the story of Ricky Jay's achievements, from his early apprenticeship, beginning at age 4, with his grandfather Max Katz, an accomplished amateur magician, as well as Al Flosso, Slydini, Cardini, Francis Carlyle, and Roy Benson, all of whom were among the best magicians of the 20th century.
On June 14th, Arena Cinema will screen the new IFC Midnight film "Berberian Sound Studio." Starring Toby Jones as a 1970's British sound technician brought to Italy to work on sound effects on a gruesome horror film. His nightmarish task slowly takes over his psyche, driving him to confront his own past. "Berberian Sound Studio" is many things: an anti-horror film, a stylistic tour de force, and a dream of cinema. As such, it offers a kind of pleasure that is rare in films, while recreating in a highly original way the pleasures of Italian horror cinema.
On June 21st, from Phase 4 Films comes "Compulsion" which stars Heather Graham and Carrie Anne-Moss in this new psychological thriller as next-door neighbors who develop an intense and destructive relationship. Based on the 1995 South Korean film "301, 302," Graham plays a "vivacious, calculating chef" with a strong need to be desired, while Anne-Moss plays a reclusive former child actress battling anorexia; the respective obsessions ultimately clash and lead to bad things for all. The film, directed by Egidio Coccimiglio with cinematogrpahy from Vilmos Zsigmond co-stars Kevin Dillon and Joe Mantegna.
On June 28th Los Angeles moviegoers get to experience "MANIAC" from IFC Midnight which stars Elijah Wood and Nora Arnezeder in the remake of the classic 1980 slasher flick. The thriller written and produced by Alex Aja and Gregory Levasseur finds Wood playing Frank, a man - haunted by seedy memories of his promiscuous mother - who works in a mannequin shop by day and stalks 'n kills women by night. Things take a turn in his life when he meets a beautiful photographer (Arnezeder).
About Arena Cinema
Arena Cinema showcases the best in Independent Film, the hard-to-find indie gems LA cinephiles search for and yearn to see that aren't getting the big screen love anywhere else! Formally a part of the historic Egyptian theater in the 1970s and 1980s when the venue was known to Los Angeles moviegoers as Egyptian 2 and 3, now it is an independent endeavor operated by Christian Meoli and Voltaire Media.
About Voltaire Media
Voltaire Media is a full service media company that specializes in Entertainment and Media Services in Los Angeles and nationwide. Our focus is on digital marketing strategy, brand identity development, corporate design, social media, strategic marketing concepts, SEO analysis, traffic acquisition, for clients in film, theatre, music, photography and television entertainment. We also procure and negotiate distribution and licensing in all platforms for completed films. We create strategic media campaigns, digital media planning, community relations and brand management, online reputation management, social network marketing, social media, content syndication, promotions, website consulting/content development and online marketing.