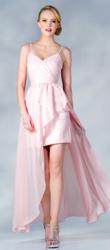 Cerritos, CA (PRWEB) May 30, 2013
http://angelwears.com announces the launch of their summer 2013 line of affordable bridesmaid dresses and wedding dresses. Angelwears.com is now offering unbelievable discounts on all of their bridesmaid dresses.
The bridesmaid dresses from angelwears.com feature fashionable designs, gorgeous looks and dedicated craftsmanship. Now, they are available at discounted prices.
Elegant formal wear for a wedding, bridesmaid, prom, homecoming, pageant, concert, holiday, social evening party, graduation, and other special occasions.
Angelwears.com's bridesmaid dresses are designed around the hottest styles, including ladies dresses for under $99.00, prom and homecoming dresses, formalwear evening dresses and more. All styles are available now, with the discriminating lady in mind who only expects the best and who never compromise on quality and style.
AngelWears.com is the leading provider for bridesmaid, wedding dresses and other special-occasion dresses at affordable prices. Great customer service, high-quality, fast delivery, and competitive prices, are the reasons to choose AngelWears.com
For more information, please visit: http://angelwears.com or call 714 522-2002