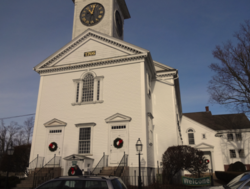 The crews have been extremely neat at all times. I would highly recommend them.
Boston, MA (PRWEB) May 31, 2013
United Home Experts recently aided in the revitalization of a Massachusetts landmark, as they completed the restoration project of the First Congregational Church in Shrewsbury. The church, which was established in 1722, was in dire need of external renovations.
United Home Experts began the renovations by stripping the old siding from the exterior of the church, and installing new insulation. In some places, new plywood sheathing was required because the old sheathing had rotted away. United also installed a new vapor barrier in order to protect the plywood from moisture, and avoid rot in the future.
Perhaps the most modern update that United included in their restoration of the church was the installation of the Everlast low-maintenance siding solution. Everlast is waterproof, and capable of withstanding winds of up to 285 mph. In a moisture-prone environment like Shrewsbury, which has seen its fair share of prodigious New England snowfall over the years, a water resistant solution was the perfect choice for an older structure where wood rot could be an issue.
Restoration projects on such an old structure, pieces of which are nearly 250 years old, can be fraught with unforeseen complications, and should only be undertaken by seasoned professionals. United was able to handle any curveballs that came their way, such as rotted structural beams and a crumbling brick foundation, while still preserving the character of the historic structure.
"The work has been done with an extremely high degree of professionalism," said Harold Stuart, a representative from the church. "The crews have been extremely neat at all times. I would highly recommend them."
About United Home Experts:
Ashland, Massachusetts-based United Home Experts, is a full-service home improvement company offering siding, roofing, painting services and replacement windows in Boston, and much of Massachusetts, Rhode Island and New Hampshire. United develops experienced, skilled craftsmen and field managers who are focused on customer satisfaction, and uses the latest technology and equipment on projects to increase efficiency while improving quality.