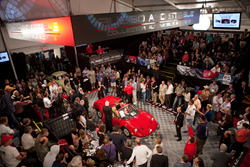 "We are proud that Russo and Steele has selected Newport Beach and the Newport Dunes Waterfront Resort & Marina as its newest auction home." Vicki Higgins EVP & CMO of Newport Beach & Company
Newport Beach, California (PRWEB) May 31, 2013
The luxurious coastal community of Newport Beach welcomes Russo and Steele, the premiere collector automotive auction, and its legendary lineup of European sports cars, American muscle cars, hot rods and customs to the Newport Dunes Waterfront Resort & Marina for a multi-million dollar sizzling summer auction featuring 350+ collectible cars June 20-22.
"We are proud that Russo and Steele has selected Newport Beach and the Newport Dunes Waterfront Resort & Marina as its newest auction home. Newport Beach provides the idyllic backdrop for high-end automotive culture. With its pristine beach landscape, award-winning dining, and renowned hotels and resorts, car enthusiasts will enjoy cruising Pacific Coast Highway and exploring Newport Beach in between auction events," says Vicki Higgins, Executive Vice President and Chief Marketing Officer of Newport Beach & Company.
An inaugural event for Newport Beach, the Russo and Steele Collector Automobile Auction will attract buyers from all over the world and there's no better backdrop than the coastal fantasyland of Newport Beach.
"Ever since Russo and Steele announced that Newport Dunes Waterfront Resort & Marina would serve as the site of its upcoming auction, we've been deluged with calls from car enthusiasts around the globe who intend to participate in the event," says Andrew Theodorou, Vice President and General Manager of Newport Dunes Waterfront Resort & Marina.
No car better captures the surfing car culture here in Newport Beach than the Woody. Reminiscent of scenes straight out of "Beach Blanket Bingo," the Woody was the must-have ride for surfers whether you launched into the Pacific on a longboard or a short board was your stick of choice. Buyers have their pick of at least three Woodies at this auction, with a 1933 Ford Coupe 402 CL, 1940 Ford Station Wagon, and 1953 Mercury Monterey Wagon among the cars up for bidding.
With the ocean breeze flowing through your hair, Newport Beach is the destination to drop the top and drive your convertible along the 10 mile scenic stretch along Pacific Coast Highway. There are numerous high-end convertibles at the auction including a 1932 Ford SPCON Phaeton, that would surely appeal to the modern day J. Gatsby, the 1953 Chevrolet Corvette Roadster, the 83rd of only 300 from Corvette's first production year and one of only 225 still in existence, the 2013 Ferrari 458 Spyder, the sportiest V-8 model in the Ferrari lineup.
According to Andrew Alcazar, who with his wife, Josephine, own and operate Russo and Steele, the auction will feature a number of highly unusual and valuable European sports, hot rods, muscle cars and custom autos. "We're excited to mark our Southern California debut at Newport Dunes Waterfront Resort & Marina, as the region is home to some of the world's most serious car collectors who will appreciate the breadth and quality of vehicles we are assembling," said Alcazar.
A special bidder showing day will be held on Thursday June 20, with a charity preview and cocktail party benefit for Children's Hospital Of Orange County (CHOC) taking place Thursday night at 6pm. Tickets for the benefit are $150. General admission tickets can be purchased for the Friday and Saturday sessions for $20.
The Auction begins on Friday, June 21st – Saturday, June 22nd, the gates open at 10am with the auction starting at noon. Bidder Cocktail Reception begins at 3:30pm on both Friday and Saturday.
Make your hotel reservation at Hyatt Regency Newport Beach and mention Russo and Steele for special rates at 888.421.1442 or online at https://resweb.passkey.com/go/RASA
For more information about Russo and Steele, please visit http://www.visitnewportbeach.com/things-to-do/russo-steele/ or call (602) 252-2697.
About Newport Beach, California Nestled among golden stretches of pristine Pacific coastline between Los Angeles and San Diego, Newport Beach epitomizes the casually sophisticated lifestyle of Southern California. This idyllic seaside destination is widely celebrated for its natural beauty and vibrant yachting community alongside stylish accommodations, eclectic coastal cuisine and upscale shopping. Ranked among the "Top 10 Resort Towns in the U.S.," Newport Beach is also distinguished as one of the country's "Top 10 Best Family Beaches." A mild climate and picturesque backdrop minutes from the newly expanded Orange County/John Wayne Airport (SNA) offer year-round appeal. For more information on Newport Beach or for a complimentary visitor guide, please visit our website or call (800) 94-COAST.Connect with us! http://www.facebook.com/visitnewportbeach [Facebook