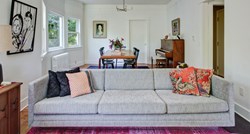 "We wanted the kitchen to feel modern but still settle comfortably in an old house," said Charlotte.
Portland, OR (PRWEB) May 31, 2013
Portland and Seattle remodeling contractor Hammer & Hand announced today the completion of a bathroom and kitchen remodeling project in a 1905 Craftsman located in Portland, Oregon's North Tabor neighborhood. Collaborating with residential designer Kevin Fischer at Alice Design and interior designer Charlotte Cooney of Domestic Arts, the kitchen and bathroom remodel touched all areas of the four-bedroom house, resulting in a home fit for the new nuclear family.
When homeowners Heather & Michael bought their home the kitchen was a mess, with few counters and one small window. For the remodeling project, Kevin created a design that removed a bathroom and butler's pantry that blocked the view of the backyard from the kitchen. A sink and soapstone counters now sit under the new, large, corner windows that look out on the garden, carriage house and fire pit. Charlotte recycled the pink 1950s bathroom sink in the new powder bath. The team restored the original fir floors.
"We wanted the kitchen to feel modern but still settle comfortably in an old house," said Charlotte. "And we wanted surfaces that will age well in an active family home that includes dogs and kids. These surfaces will age gracefully, unlike some other 'sleeker' choices we could have made in a modern kitchen."
An enlarged opening also connects the expanded kitchen to the downstairs fourth bedroom. The couple elected to sacrifice bedroom number four and make it into a kid-friendly den. The east wall now has a wall of shelves for the family's books, and Charlotte and Heather reupholstered her vintage reading chair in thick fabric that juxtaposes old and new.
"From start to finish, this was a collaborative effort," said Hammer & Hand lead carpenter Bobby Pinkham. "We were able to realize Heather and Michael's vision of a clean, simple and utilitarian space – like their very own Norwegian hotel."
Learn more about Portland and Seattle home remodeling services by visiting Hammer & Hand's website at (http://www.hammerandhand.com/residential-remodel).
About Hammer & Hand
Hammer & Hand is a construction company dedicated to inciting evolution in building through service, science and craft. The firm collaborates with clients and architects to build the best of the Northwest, from new custom homes, to residential remodels, to commercial renovations.
Hammer & Hand Portland
1020 Southeast Harrison Street
Portland, OR 97214
http://hammerandhand.com
(503) 232-2447
Hammer & Hand Seattle (at The Bullitt Center)
1501 E Madison St, #250
Seattle, WA 98122
http://hammerandhand.com/seattle
(206) 397-0558