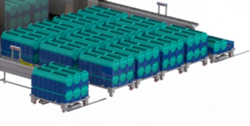 High Pressure Processing is environmentally friendly and basically a waste-free technology.
White Pigeon, MI (PRWEB) May 31, 2013
It is estimated that 40% of all food in the U.S. supply chain is lost between harvest and retail delivery. Nearly 20% can be attributed to food perishing at retail [Source: National Resources Defense Council ]. All Natural Freshness' High Pressure Pasteurization (HPP) Solutions with Stackable Tolling Pallet Buffering Systems can help food manufacturers reduce shrink by up to 50%.
HPP is a cold-water ultra-high pressure based technology that can drastically extend the shelf-life of totally fresh products. In High Pressure Pasteurization all natural food products are submerged, in water and then subjected to pressures up to 87,000psi. As a result of this innovative process harmful bacteria and spoilage microbes are drastically reduced. The end result is a shelf life extension of between 2x and 3x the shelf life of that same product in its natural state. This drastic shelf life extension eliminates waste from spoilage in the supply chain. "High Pressure Processing is environmentally friendly and basically a waste-free technology," stated Tomas Norton & Da-Wen.
All Natural Freshness has designed material handling equipment to seamlessly integrate into food manufacturing operations. The HPP Buffering Solution is the lynchpin that enables supply chain integration whether High Pressure Pasteurization takes place at the end of production, across the street from production, or 100 miles from production. Now, All Natural Freshness announces the first commercial delivery of their Buffering Solution, powered by Stackable Tolling Pallets. "We designed the Buffering Solution to give food manufacturers the flexibility to implement this game changing waste reduction technology at any point in their supply chain," comments Jon Jurhs, Vice President of Business Development.