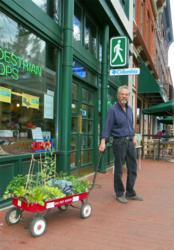 A bounty of vegetables growing at the Pedestrian Shops has inspired $500 in donations to Growing Gardens.
Boulder, Colorado (PRWEB) May 31, 2013
A bounty of vegetables growing on Boulder's Pearl Street Mall at the Pedestrian Shops has inspired $500 in donations to Growing Gardens, a local nonprofit that helps kids learn about organic gardening and provides plots for families to grow gardens.
The flourishing crop of seasonal veggies, rooted in a vintage red wagon, reminded Pedestrian's customers to celebrate Earth Day by taking part in Pedestrian's Earth Day Shoe Drive and purchasing Patagonia shoes. Collaborator Patagonia Footwear and Clear Creek Reps, the local Patagonia Footwear sales representatives, matched Pedestrian's contributions for Patagonia shoes bought during the shoe company's Advocate Weeks promotion.
The wagon was accompanied by a colorful display of flowers and vegetables in Pedestrian's windows to build awareness for Growing Gardens. The window display and planter were designed with help from Growing Gardens' Youth Leaders, who are learning about organic gardening and environmental stewardship through the organization's Cultiva Youth Project.
Plants from the wagon were transplanted after Earth Day into the Growing Gardens Horticulture Therapy garden beds and the Children's Peace Garden in Boulder, so the program's participants can enjoy them all summer.
During more than two decades Pedestrian's two annual shoe drives, commemorating Earth Day in the spring and Thanksgiving in the fall, have collected more than 40,000 pairs of shoes to help those in need and make a commitment to resource conservation.
Donated shoes help two locally based nonprofits:

One World Running, founded in 1986 by local runner and writer Mike Sandrock, sends gently used running shoes to third world countries and those in poorer condition are turned into turf for playgrounds.
Business and casual shoes go to the Deacon's Closet at First Presbyterian Church, for those in need of assistance.
"We really appreciate having a partner like Patagonia that shares our values and has the capacity and will to help us share them with others," said Richard Polk, president of Pedestrian.
Last year, Pedestrian's collaboration with the Center for Resource Conservation won Patagonia Footwear's award for Best Advocate Week's Program Implementation, earning an additional $500 award for the Center for Resource Conservation.
Longtime "green retailer" Pedestrian Shops celebrates Earth Day every day, according to Polk. A 10 kw solar array in place since 2008 generates nearly half the energy needs of its headquarters store at 1425 Pearl St. Pedestrian also maintains a "closed door policy,'' keeping its carbon footprint to a minimum by closing the doors when air-conditioning or heat is on, and follows other practices that Reduce, Reuse and Recycle.
The 43-year-old locally owned family business operates two stores in Boulder, Colo., as well as the 16-year-old website comfortableshoes.com.
Pedestrian's Headquarters Shop: at 1425 Pearl St., on Boulder's Downtown Mall.
The Village Shop: Facing Folsom Street between Arapahoe Avenue and Canyon Boulevard.
Growing Gardens empowers individuals and groups to experience a direct and deep connection with plants, the land and each other. Educational, hands-on sustainable urban agriculture programs are designed for young children, multi-cultural at-risk youth, seniors, special-needs adults, low-income families and community gardeners. Growing Gardens serves approximately 10,500 individuals annually.
For information about Pedestrian Shops, please contact Richard Polk at 303.641.8639 or Richard(at)pedestrianshops(dot)com.
For more information about Growing Gardens, please contact Annie Sweeney at 303.443.9952, ext. 2 or e-mail annie(at)growinggardens(dot)org.