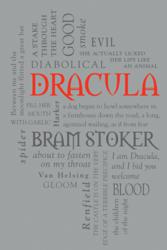 We are thrilled that our beautiful Word Cloud Classics edition of Dracula book was honored with a Gold award for cover design at the 2013 Benjamin Franklin Awards.
San Diego, CA (PRWEB) May 31, 2013
Thunder Bay Press and Canterbury Classics is excited to announce that two of its classic books, Dracula and Jules Verne have been honored at the 2013 IBPA Benjamin Franklin Awards. The IBPA Benjamin Franklin Awards recognizes excellence in both editorial and design and is regarded as one of the highest national honors in small and independent publishing.
Part of the beautiful and popular Word Cloud Classics series, Bram Stoker's Dracula ($14.95, ISBN: 978-1-60710-551-0), was awarded the GOLD award for Cover Design – Small Format (Fiction). The Word Cloud Classics series features over 25 classic works of literature with a clean, modern aesthetic. The books have heat-burnished covers and foil stamping and come in chic color schemes with high quality, matching end papers.
Awarded as a SILVER finalist in the Gift Books category is Canterbury Classics' Jules Verne ($24.95, ISBN: 978-1-60710-317-2), an elegant collection of stories which includes the African exploration of Five Weeks in a Balloon; the story of Captain Nemo and his submarine in Twenty Thousand Leagues Under the Sea; Around the World in Eighty Days, the famous story of an incredible expedition; and the classic Journey to the Center of the Earth.
"The dawn of the digital book age has inspired many industry professionals to declare that physical books are dinosaurs," said Peter Norton, Publisher of Canterbury Classics. "We disagree and we've set out to make sure that our customers still want to purchase physical books by creating visually stunning editions of popular classics. We are thrilled to be recognized by IBPA for our versions of these books."
Named in honor of America's most cherished publisher/printer, the Benjamin Franklin Awards™ recognizes excellence in independent publishing. Publications are grouped by genre, and are judged on editorial and design merit by top practitioners in each field. The trophies are awarded to the best books in several categories and were presented to the publishers during a gala awards ceremony on May 30, 2013. Since 1983, Independent Book Publishers Association, the largest not-for-profit trade association of independent publishers, has been the leader for member benefits, education, and advocacy.
Both books are currently available online at amazon.com and barnesandnoble.com, and can be found wherever fine books are sold.
About Canterbury Classics:
Canterbury Classics is an imprint of Thunder Bay Press, specializing in the publication of exquisite editions of class works of literature. Thunder Bay Press (http://www.thunderbaybooks.com) is an imprint of Baker & Taylor Publishing Group, the largest distributor of traditional and digital media in the world. Thunder Bay is a collection of coffee table-style reference books suitable for gift-giving on the subjects of art, architecture, pets, cooking, travel, culture, hobbies, religion, transportation and nature. Thunder Bay Press is perhaps most known for its best-selling Then and Now series.