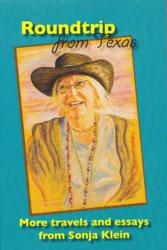 Barksdale, TX (PRWEB) May 31, 2013
What was it like to be the wife of a Mafia boss? Sonja Klein, a Texas-based travel writer, knows firsthand. She was married to one for fifteen years. And while that image might bring to mind TV's The Sopranos, Sonja doesn't hesitate to distinguish her real-life experiences from the mythology perpetuated in film and television.
Her second of four husbands, Raleigh didn't divulge much of his clandestine lifestyle to Sonja, but eventually he afforded her fascinating glimpses into the life he led. Now Sonja is sharing the life she knew—and enjoyed—being married to such a man.
From living rent-free in luxury dwellings, driving free Lincolns and Mercedes, drug deals, fake IDs, large cash purchases, gifts of expensive jewelry, fixed horse races and card games, a nightclub called "The Galloping Jugs," from an introduction to Al Capone's chef to paying off police officials, sheriffs, and district attorneys, Sonja has seen it all.
Her new book, a travelogue titled Roundtrip from Texas, recalls her experiences being married to Raleigh, but it also provides a colorful picture of the world (literally) that she calls her own. Having visited more than seventy countries, Sonja is no stranger to the cultures that make up our planet, and she's always lived her life with gusto. If you don't believe it, ask her cousin, singer/songwriter Lyle Lovett: "When I was a boy, Sonja was one of the first grown-ups in my life to show me it was okay to have fun. She was pretty, wore cool clothes, drove fast cars and raced motorcycles. . . . She taught me that it's possible to be a good, productive person and still embrace with enthusiasm the unknown possibilities every day has to offer."
Sonja Rose Klein is a fifth-generation Texan and graduate of The University of Texas. She is the author of Honk If You Married Sonja. When not traveling the world (and often during), she writes poetry, essays and short stories. She lives on Ambush Hill Ranch in southwest Texas and knows her way around a shotgun.
For more information, please visit http://www.sonjaroseklein.com/brand-new-book.
Media contact: Victor Gulotta
Gulotta Communications, Inc.
617-630-9286
http://www.booktours.com
victor(at)booktours(dot)com
###