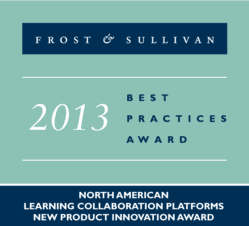 "AMVONET has perfected its technology to the point where unprecedented integration of Moodle LMS is possible with the synchronous live classroom and content-authoring application."
Alliance, OH (PRWEB) May 31, 2013
In September, Frost & Sullivan will formally recognize Alliance-based AMVONET with the 2013 North America Frost & Sullivan Award for New Product Innovation. Providing significant value to higher education and businesses, AMVONET has developed an innovative and unique learning collaboration platform that integrates multiple functional systems. These systems include AMVONET's Learning Management System (LMS); a customized version of Moodle (AMVONET Manage); Live Sync Classroom (AMVONET Connect); and its interactive content-creating, editing and publishing capability (AMVONET Publish).
Selected for its real-time publishing system, where rendering and upload is not required and content is immediately available for real-time delivery, AMVONET's solution has a module to provide immediate live technical support for end users from inside. Its graphical user interface (GUI) and comprehensive integration set it apart from any other platforms with its distinct navigation and tools.
Sathya Vendhan, a Frost & Sullivan research analyst, comments on the AMVONET system, "The platform, with all the functional systems, leverages Moodle LMS, a world-leading LMS builder, to create the AMVONET Manage module. AMVONET has perfected its technology to the point where unprecedented integration of Moodle LMS is possible with the synchronous live classroom and content-authoring application." Unlike competing solutions that provide the management system and synchronous live class as two entities, the AMVONET solution integrates them on a single platform.
Each year, Frost & Sullivan presents this award to the company that has developed an innovative element in a product by leveraging leading-edge technologies. The award recognizes the value-added features/benefits of the product and the increased ROI it offers customers, which, in turn, increases customer acquisition and overall market penetration potential.
Frost & Sullivan Best Practices Awards recognize companies in a variety of regional and global markets for demonstrating outstanding achievement and superior performance in areas such as leadership, technological innovation, customer service and strategic product development. Industry analysts compare market participants and measure performance through in-depth interviews, analysis and extensive secondary research to identify best practices in the industry.
Amvonet President Vadim Eelen comments, "It's exciting when a firm like Frost & Sullivan validates our technology with an award like this. It comes at a time when we are experiencing continued growth due to the expansion of e-Learning across a variety of industries worldwide." Eelen continues, "Our team is looking forward to receiving the official award at the conference this September."